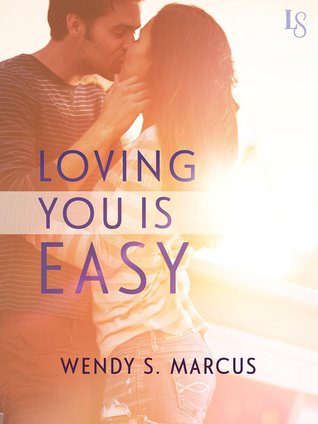 Loving You Is Easy

by Wendy S. Marcus
on December 9, 2014
Pages: 276
Buy on Amazon
Goodreads


She's a survivor of the front lines of politics. He's a wounded soldier returning home from the battlefield. Can they place their trust in the power of love?

Nobody plays the role of perfect politician's daughter better than quiet, respectable math teacher Brooke Ellstein. But she won't be caught swimming with the sharks again, not after the son of a wealthy donor sinks his teeth into her and gets away with it. Still, political connections have their perks, such as heading up the governor's "Support Our Troops" pen-pal initiative—and getting first dibs on the smoking-hot sergeant whose picture shakes her right down to her goody-two-shoes.

When corresponding with sweet, classy Brooke, Shane Develen instinctively hides his commando tattoos and blue-collar roots—and he can tell that she's hiding something, too. But Shane knows he's gained her trust when Brooke gives him a blisteringly sexy photo. Then he's injured in an ambush and a fellow soldier posts the snapshot online. Overnight, Brooke's reputation turns to ashes. Even though he's totally wrong for her, Shane shows up on Brooke's doorstep, determined to set things right—and discovers that right or wrong has nothing on the chemistry they share.
The prologue of this book pulled me right it… I love when a book does that!!  Throughout this book, it continued to hold my attention and had me thinking about it when I had to put it down.  This is a book that will truly have you wishing you could sit and read all day!
Loving You Is Easy starts with this:
Dear Brooke,

Sure. I'm all for having a pretty pen pal from back home. As long as you know—and I can't think of a nice way to put this so I'm just going to write it—I am not in the market for a girlfriend, long distance or when I come home. I realize saying that in my first letter makes me sound like a jerk. I mean, who do I think I am? But I'm being honest and putting it out there so you know where I stand from the start. I'm here to do a job and I need to focus on that job completely.
The premise of Loving You is Easy is that Brooke and Shane meet as pen pals when he is overseas serving in the Middle East.  I so loved the idea of the written word setting you free; of the written word bonding these two in a way that sometimes you can't do when you are focused on the physical attraction… oh no worries there is a physical attraction, but I loved that the physical piece happened after these two are bonded emotionally.
The conflict in this book comes when Brooke thinks trust is broken. There is no cheating in this book but WOW does the betrayal run deep and more than that the author used this plot point to keep this story so current with today's world; I loved this!
I also adored how this event forced Shane to push to move forward because yes there is a battle that rages inside of him.
Though I did not always love Shane, my heart sometimes broke for him.  His pain and struggle were tangible to the reader.
The resolution for Brooke and Shane wove in both of their families and allows the reader to think about what makes a great family, what makes a loving home… just because you live a life of privilege does not mean your family will be there for you.
I am very much looking forward to All I Need Is You (Loving You, #2) – Neve and Rory's story!