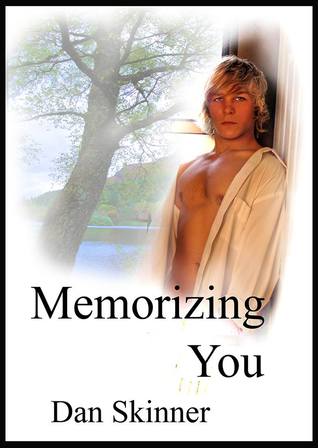 ---

Two high school boys from different walks of life: Ryan, a handsome athlete, and David, an average joe from a blue collar family, discover their desires, stealing their kisses under the cover of an old oak at night. Their love begins a secret life, hidden from their families, friends, and classmates. As their passion grows, so does the danger of their discovery. Their only hope is to create a separate world where every kiss is a treasure and every moment… memorable.
First love. Secret love. Unforgettable love.

Denise's Review – 4 STARS as I read and 4.5 STARS as it sits with me!
Ok this is the first book in a long time that I am truly struggling to rate; I will start by saying that the end Memorizing You was an amazingly powerful story that grabbed my heart, pulled at my soul and had me sobbing, yes full blown you can't even control tears.
Memorizing You is written in the 1st person, writing memoir style going back over 40 years, set in the 60's and 70's.  This is David's story, his story of learning to accept that he is a gay man and as it develops the journey to the love of his life, Ryan a handsome athlete, an athlete who lives with the fact that he is gay but knows that it is not an acceptable thing in his home. Ryan's struggle was so well written, the moments he snuck in with David, his desire to just be himself, his agonizing reality that his father was the face of hatred and intolerance.
This book has some masterful use of secondary characters!  I adored the use of David's parents, the evolution of the parents relationship with their son truly spoke to me. His parents watched David's growth and learned through their own journey (really wonderful use of backstory) that you need to make the most out of what life gives you, as it may not be what you planned but the love of family is so critical to happiness.
In addition Connor and Rosemarie, secondary characters both introduced early in the book, both evolve to be friends, true friends to David and Ryan…. both show tremendous personal growth rarely seen in secondary characters.  I love how these characters were used to show tolerance and that it is the connections we share with others that define our lives, not who we share our bed with.
So you ask why did I struggle with this book? Mr. Skinner used beautiful imagery throughout the story but at times I did struggle with the book, it was bit slow for me and lacked dialogue as you spend a fair amount of time in David's head or having him describe things to the reader. I do want to add I was so glad I pushed through and kept reading!
As the end the author had me experience such a vast range of emotions, disgust at what hate does and how it can cost people, pain for the love that we can't move past, hope for the friends who support us through everything and in the end well I do not even know what to say it, inspiration maybe for the love that you just can't move past because  it so envelops your soul.
The end of this book as I said above had me sobbing, yes sobbing out loud. Mr. Skinner please I beg of you, write a bit more for Ryan and David! Because I need to see it, I need to experience it and your vision of the one I want!
Thank you for Ryan and David; a truly powerful story that will stick with a reader for sometime to come!
P.S.  This is a book for all audiences as there is no sex shown in the book so it can be enjoyed by a reader at any level interested experiencing the power of true love.

---