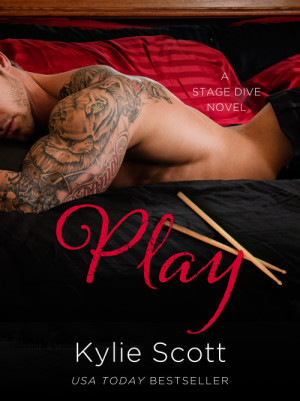 Kylie Scott returns with the highly anticipated follow-up to international bestseller LICK.

Mal Ericson, drummer for the world famous rock band Stage Dive, needs to clean up his image fast—at least for a little while. Having a good girl on his arm should do the job just fine. Mal doesn't plan on this temporary fix becoming permanent, but he didn't count on finding the one right girl.
Anne Rollins never thought she'd ever meet the rock god who plastered her teenage bedroom walls—especially not under these circumstances. Anne has money problems. Big ones. But being paid to play the pretend girlfriend to a wild life-of-the-party drummer couldn't end well. No matter how hot he is. Or could it?

Denise's 4.5 STAR Review!!!
Within a few moments of opening this book I was reminded why I love Ms. Scott's writing. This book instantly pulled me in and had me not wanting to put it down; thank goodness for rainy Sundays!
Play is book 2 in her Stage Dive series; a series that has a book planned for each member of the band Stag Dive. Book 1 Lick was a top read for me in 2013, if you have not read Ev and Davie (the bands guitarist's story) I highly recommend you 1-click it.
Book 1 gives you glimpses and very funny moments with Malcolm "Mal" Ericson the drummer for Stage Dive. Well Play gives you his story, and I think it may be one of the funniest books I have ever read.
As the story opens, the reader meets Annie Rollins and I want to pause and say I love how this blended with book 1 and brought Annie into the mix.
Annie and Mal's "introduction" grabbed my attention, reminded me of why I adored Mal in book 1 and had me excited to see how this would all play out; yes all within the first few chapters.
I loved Mal; he was adorable, he often says the funniest things, things that as you make your way thru the book you start to think; that's just Mal. Ms. Scott brilliantly managed to make him feel real and allowed the reader to understand his language and thought process.
I thoroughly enjoyed all of the band members in this book, the interactions between David, Mal, Jimmy and Ben really allowed the reader to see how they bond and how they share; giving insight into who each is and how they rely on each other.  Yes, it felt like visiting with old friends, because these characters were so well crafted.
When you see into both Mal and Annie pasts, when they open up to each other, when they finally allow those walls to fall, my heart went with their walls. This book truly had my heart and sometimes a lump in throat as the pain beneath the laughter was revealed!
I so loved Mr. and Mrs. Ericson, Mal's parents; their use helped to move the story forward, allowed you to understand many of Mal's actions even some of the ones that might make you want to slap him on the head with your kindle.
In the end, the happy Mal plans for Annie is so him; the thinking into what he does literally had me thinking that was so Mal.
Thank you Ms. Scott for a wonderful story; I am so excited for Jimmy's story, Lead book 3 and I can't wait for book 4 Ben's story!
Yes, this is a must read series for me, one I will recommend to anyone who will listen and yes this is a series whose release dates I will stalk.  🙂
BUY THE BOOK
Amazon US | Amazon UK | Amazon CA | B&N
Lick (Stage Dive, #1)
About the Author
USA Today Bestselling Australian Romance Writer.
Website | Twitter | Facebook | Goodreads