Reapers MC Books 1-3

by Joanna Wylde
Series: ,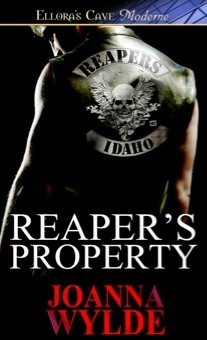 Marie doesn't need a complication like Horse. The massive, tattooed, badass biker who shows up at her brother's house one afternoon doesn't agree. He wants Marie on his bike and in his bed. Now.
But Marie just left her abusive jerk of an ex-husband and she's not looking for a new man. Especially one like Horse—she doesn't know his real name or where he lives, she's ninety percent certain he's a criminal and that the "business" he talks with her brother isn't website design. She needs him out of her life, which would be a snap if he'd just stop giving her mind-blowing orgasms.
Horse is part of the Reapers Motorcycle Club, and when he wants something, he takes it. What he wants is Marie, but she's not interested in becoming "property of".
Then her brother steals from the club. Marie can save him by giving Horse what he wants—at home, in public, on his bike… If she's a very, very good girl, she'll get lots more of those orgasms only he can offer, and he'll let her brother live.
Maybe.
---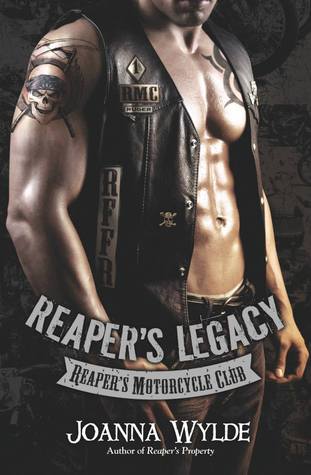 Reaper's Legacy is a raw and intensely erotic tale in Joanna Wylde's Reapers Motorcycle Club series.
Eight years ago, Sophie gave her heart-and her virginity-to Zach Barrett on a night that couldn't have been less romantic or more embarrassing. Zach's step-brother, a steely-muscled, tattooed biker named Ruger, caught them in the act, getting a peep show of Sophie he's never forgotten.
She may have lost her dignity that fateful night, but Sophie also gained something precious-her son Noah. Unfortunately, Zach's a deadbeat dad, leaving Ruger to be Noah's only male role model. When he discovers Sophie and his nephew living in near poverty, Ruger takes matters into his own hands-with the help of the Reapers Motorcycle Club-to give them a better life.
Living with outlaw bikers wasn't Sophie's plan for her son, but Ruger isn't giving her a choice. He'll be there for Noah, whether she wants him or not. But Sophie does want him, has always wanted him. Now she'll learn that taking a biker to bed can get a girl dirty in every way.
---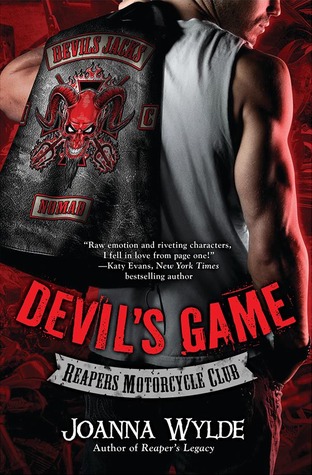 Liam "Hunter" Blake hates the Reapers MC. Born and raised a Devil's Jack, he knows his duty. He'll defend his club from their oldest enemies-the Reapers-using whatever weapons he can find. But why use force when the Reapers' president has a daughter who's alone and vulnerable? Hunter has wanted her from the minute he saw her, and now he has an excuse to take her.
Em has lived her entire life in the shadow of the Reapers. Her overprotective father, Picnic, is the club's president. The last time she had a boyfriend, Picnic shot him. Now the men in her life are far more interested in keeping her daddy happy than showing her a good time. Then she meets a handsome stranger-a man who isn't afraid to treat her like a real woman. One who isn't afraid of her father. His name is Liam, and he's The One.
Or so she thinks.
---

Where the heck have I been??? Since reading my first MC book a couple of months back (Beautiful Ink by Nicole Reed), I have been dying to read more MC books.  There is just something about them – the club life, the close knit family and the bond between a man and his old lady plus the depths someone will go to to protect their family that has been in the back of my mind so when free time came to read the first three books in this series, I jumped in immediately.
I will try to be as brief as possible, as this is a review for three books, while wanting to convey what I felt about these amazing books.  Joanna Wylde has found a new fan in me and I devoured these books in three days straight.  These books were utterly captivating; the stories unlike anything I have ever read before raw, emotional and real, I adored the characters who embedded themselves in my heart and I have to say after reading Devil's Game, it left me wanting more and more!
What I will say about these books is that Ms. Wylde was able to give us some bad-ass good guys, living in a rough and tough world of a motorcycle club whose lives were filled with danger, tension, and of course sexy HOT romance.
We first meet the Reapers MC in Reapers Property.  Marie's brother, Jeff works for the MC while unknowing to them, he is embezzling money from them.  In the Reapers dealings with Jeff, Marie gets to know one of the club members named Horse, who talks a big game, but he likes her and it's apparent in his protective, charming albeit sometimes scary mannerisms. Their attraction to each other is palpable and combined with their sweet texts getting to know each other warmed my heart.
When Jeff's deception is found out, blood is owed and rather than killing him, Horse takes Marie to start a new life with him.  And while Marie starts off angry with her situation, she quickly finds out the depths Horse will go to to protect his old lady while finally being put into a real family situation something she has never had before.
Reapers Property was all consuming and hard to put down filled with laugh out loud moments, intense situations and of course hot sexy moments making it a perfect read.
Reapers Legacy continues this series where we meet Sophie and Ruger, another member of the MC.  Sophie and Ruger meet in a very unique circumstance that brought tears to my eyes and completely warmed my heart.
Ruger is another man not looking for permanent significant other but actions speak louder than words in this book and everything he says and does totally contradict each other.
Ruger swoops in to bring Sophie and her son Noah to his home to take care of them, protect them and provide for them though living together will prove to be a challenge on both sides as their attraction is insane! But they both strive to deny themselves as sex between them would ruin them, their relationship and the bond between Ruger and Noah, so their deep bond and friendship will have to suffice.
"That's the thing about guys like me," he continued, his voice low and smooth, eyes boring right through mine.  "We don't do what we're supposed to.  We take what we want.  And me? I want all kinds of things. First, I want to tie you up in my bed with my belt.  Then I want to cut off your clothes and fuck you in every hole you have.  I also want to come on you and rub it into your skin and lick your pussy until you scream at me to stop because if you come one more time you'll die. Then I want to do it again.  I want to own you, Sophie."
o.O
So without giving anymore away of this story as I truly feel that you need to experience yourself, both characters will learn a lot about themselves and each other as their journey continues in this book. Sophie will begin to understand that this new world she is in is not all danger, that there is something to be said about being included in such a close knit family where they will do anything and everything to protect their own, and Ruger will realize just how much this woman means to him.
I have to say that the meaning behind one of Ruger's tattoos was powerful and again brought tears to my eyes…so well done! And the epilogue giving us a look into the future was perfection.
Going into Devil's Game, I'm not going to lie and say that I was a little nervous about how everything would play out given that we saw bits and pieces of this storyline within Reaper's Property. I enjoyed that the timeline coincides with each other so that we, the readers, get to see the other side and learn what exactly the entire situation was and to see Em and Liam's (aka Hunter) POV.
As the book opens, I have to laugh out loud at this scene with Picnic and his wife and daughters because I almost wish that my own daughter had a Reaper as her dad scaring away any boys in sight.
The relationship between Em, the daughter of Picnic the Reapers MC President, and Hunter, a member of the rival Devil Jacks MC is something that was to never happen or exist. And quite honestly, how they met was all but innocent on Hunter's part but how it all came full circle was magnificent. Many questions will arise in this book including trust, loyalty and just how far you will go in the name of your club vs. love.
I am being purposefully vague because this was my favorite in Ms. Wylde's series so far. Because despite their loyalties to their families and clubs, I enjoyed watching this relationship develop, the goodness and heart and feelings that were beneath the surface for both. What I enjoyed even more was that Em, who has been looking for love since book 1, has finally met her match, someone who is not afraid of her father and who will not back down for his love. She out of all deserves this the most.
You will have to read this book to find out what Picnic's reaction is and if the rival MC's can find a way to exist together in a truce….it is so worth the read!
I completely IN AWE of this series so far, going into it not knowing what to expect but coming out totally in love with bikers, the action and suspense of each book, the writing that just gets better and better (Ms. Wylde does the dual POV SO WELL!!), and the intense love and passion that exudes from each couple I have met so far. Can I have multiple book boyfriends within the same club?? HELL YES!  I look forward to more from Ms. Wylde and these wonderful characters and the magnificent world she created and look forward to Reaper's Stand due out in October! CAN'T WAIT!  What I enjoy the most out of Ms. Wylde's books is how she ties in secondary characters giving us teasers and lead ins to future books and I am very much looking forward to Picnic's book!!! <3
♥READ THE SERIES♥
Book 1 – Reaper's Property
Book 2 – Reaper's Legacy
Book 3 – Devil's Game