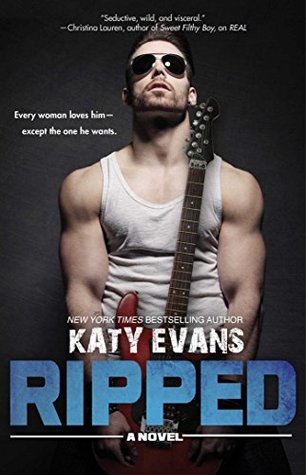 Ripped

by Katy Evans
on December 9, 2014
Pages: 288
Buy on Amazon
Goodreads


The fifth story in the new adult series that began with the New York Times bestseller REAL.

Every woman wants me--except the one I sing for.

Seattle shakes with anticipation: they call it the concert of the year. They say girls are getting pregnant just thinking about my band being in town.

But when you love a girl, you don't leave her with nothing but a ring and a promise. Any man with half a brain should know.

So what did I expect my girl would do when she saw me again?

Well, for starters, she loathes our music. Particularly the song I wrote about her.

When I sing it, the stadium is in an uproar. Thousands of fans scream my name like I'm a god--but yeah, not her. Crystal clear: the girl's not happy to see me.

Black hair, black boots, a bad attitude, that's her -- Pandora Stone is a freaking man-eater and she's out for my blood.

That's alright.

Let her come at me. Because I'm out for her heart and, this time, there's no way she can stop me.
This book can easily be read as a stand alone and is my favorite Katy Evans book!!!  Though readers meet Pandora in the prior books in the series as a friend of Brooke and Melanie's, the reader knows very little about her. And the readers have never met the male lead before so again feel free to jump in as a stand alone.
From the moment I opened Ripped, I was pulled into Pandora's story.  I adored the way this book unfolded; the slow way in which Pandora's backstory is relayed to the reader made for a wonderfully engaging story.
As soon as I met MacKenna Jones, this rocker grabbed my attention. Yes, I loved MacKenna Jones!  Throughout the book, I fell further and further in love with Kenna, ok so maybe it was lust first but then it was love.  The lyrics of his songs offer such a window into his heart.
Kenna wants Pandora; he makes no if ands or buts about his attraction to her.  Wait, I should pause and say this is a second chance love story; one that is layered and so well done. Pandora and Kenna relearning each other while dealing with the past had me gripping my kindle and hoping these two find a way to embrace the deep connection they share.
The past is the past but the coming together of their stories; each learning perception is your own and sometimes outside forces influence outcomes, had my heart in my throat.  And in the end had me realizing sometimes the right person comes into your life at the wrong time.
When these two finally come to accept their feelings for each other, the reader is thrown an EPIC curve ball. I truly loved the twist and the way in which it was handled was true to each character created.
I will not give away WHY the epilogue is so powerful, but I will say the song in the epilogue is haunting and amazing!
I truly hope someday Ms. Evans words will be put to music!
Thank you so much Ms. Evans for MacKenna and Pandora's journey!
So do hope to see a bit more of them again sooonnnnnn…. yes greedy reader lol 🙂
♥READ THE SERIES♥
Book 1 – Real
Book 2 – Mine
Book 3 – Remy
Book 4 – Rogue
Book 5 – Ripped