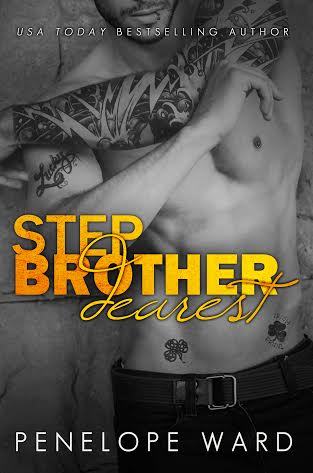 Stepbrother Dearest

by Penelope Ward
on September 23, 2014
Pages: 230
Buy on Amazon
Goodreads


You're not supposed to want the one who torments you.

When my stepbrother, Elec, came to live with us my senior year, I wasn't prepared for how much of a jerk he'd be.

I hated that he took it out on me because he didn't want to be here.
I hated that he brought girls from our high school back to his room.
But what I hated the most was the unwanted way my body reacted to him.

At first, I thought all he had going for him were his rock-hard tattooed abs and chiseled face. Then, things started changing between us, and it all came to a head one night.

Just as quickly as he'd come into my life, he was gone back to California.

It had been years since I'd seen Elec.

When tragedy struck our family, I'd have to face him again.

And holy hell, the teenager who made me crazy was now a man that drove me insane.

I had a feeling my heart was about to get broken again.

Stepbrother Dearest is a standalone novel.

**Contains graphic sexual content and harsh language. It is only appropriate for adult readers age 18+
I LOVE Penelope Ward books and Stepbrother Dearest was no different. I adore all of Ms. Ward's characters (though Mitch is still my fave and Elec a very close second!!)
People who know me know I LOVE forbidden romance…the angsty kind that gives you knots in your stomach as you race through the book to find out what will happen. Stepbrother Dearest definitely did that to me and so much more. This was a story not done before and I love different and new; it's exciting and kept me on the edge of my seat and I couldn't stop thinking about it nor did I want to.
Greta and Elec met when Elec came to spend a year with their new combined family – Greta's mom married Elec's dad. There is obvious tension between Elec and his dad and I couldn't help but wonder what caused this rift between them. Now Elec is a complete jerk from the moment they meet but he's hot, saucy and I can't help but like it! 🙂 The reader can feel Greta and Elec's dynamic and though Elec strives to get under her skin by being a complete ass to her, I felt something more behind his protective side, behind his kindness – there was definitely more than meets the eye with this one.
So of course what is forbidden is always what you want the most, right?? And as these two get closer, their growing attraction and feelings for one another become more apparent until they connect on a deeper level that neither thought could be possible.
When things suddenly end and Elec has to move back home, it completely broke me and my heart.
Seven years pass and these two are forced into each other's space again. Both Greta and Elec grown but never completely forgetting the other. Being in Greta's head and having to live the torture of seeing "the one that got away" with his new girlfriend, not being able to be as close to him as they once were, was just so painful for me to endure. I lived and breathed her pain and it shattered my already broken heart even more.
So what Ms. Ward did that I completely loved was that she gave us Elec's POV…but in a creative way that brought us back to the beginning and allowed us to be in Elec's head from when he first met Greta to when their paths crossed again. To finally see his side of things and to finally see the "real" him was such a treat for me because scenarios that left me with questions in my head were finally answered.
So yes, there are two sides to every story as everyone says but to find out what happens in the end and who he will choose, you will have to read it for yourself 🙂
Emotionally beautiful, intense, and original, I urge you to try Stepbrother Dearest. Yes, there are surprises at every turn. Yes, it has one of the best epilogues I have read EVER. It was well written and engaging and Penelope Ward has proven again why she is an author that I will always read! <3