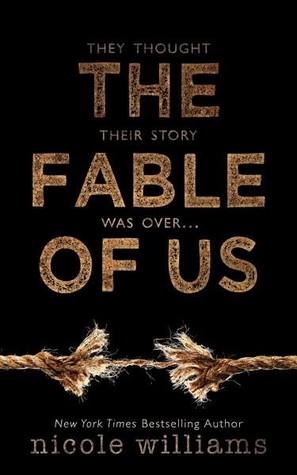 The Fable of Us

by Nicole Williams
on February 2, 2016
Buy on Amazon
Goodreads


Her heart can't be destroyed by the same person twice. At least that's what Clara Abbot finds herself hoping when she runs into Boone Cavanaugh less than an hour after returning to Charleston.

As kids, Clara and Boone had been each other's firsts, and no one or nothing could stand in the way of their forever. But all kids have to grow up sometime. The troubled son of the town drunk winding up with the firstborn daughter of the local royalty was a happy ending even the most imaginative of fairy tales couldn't make believable.

Their fable came to an end as most do: tragically. Boone might have done the leaving, but it was Clara who got away and made a new life for herself in California. But after seven years of dodging her hometown, she's only back in Charleston for seven days to celebrate her sister's wedding. She won't let her overbearing family or her run-in with Boone rattle her—though rattling her is obviously Boone's primary objective.

Boone is her past and her past is behind her, a mere speck in the rearview. So why does she feel it coming back every time she looks at him? Why does she see it every time he looks back?

Just when Clara's life can't possibly get more complicated, the ground shifts, and she discovers just how far her family was willing to go to keep the wrong boy out of her life. Was it really Boone who left her? Or was it Clara who left him?

The truth will be hard to face. Especially when she discovers most of her life has been built on lies.
Nicole Williams is BACK! In a blog post, Nicole says that "her love affair with writing has found its way back to her" and I have to say that she knocked it out of the park with this beautifully written, complete perfection second chance love story of Clara Abbot and Boone Cavanaugh. I have loved Nicole's stories since picking up her very first book and The Fable of Us will definitely be on my list of Top Faves of 2016.
This is the classic story of two children who grew up on opposites sides of the tracks, a present day Romeo and Juliet story – Clara of the Abbot family, the first born daughter of the local rich family and Boone Cavanaugh, son to an alcoholic mother living in a trailer park.
Despite their differences, the connection and love that they had for each was real and all consuming. The best part of their relationship is that they challenged each other to be better, they believed in each other, and their love for each other surpassed any shortcomings they had in their family life.
Until their fable came to an end….tragically…as it is stated in the blurb. Something that the reader may or may not guess as they are reading the book, but when you find out what it is, it will tear at your heartstrings and bring a tear to your eye for the miscommunication, the lost years, and the love that died and forever changed them.
And here they are, seven years later. Clara is to attend her sister's wedding and with all of the pent up anxiety and emotions that comes with seeing her family after so long, she comes across Boone at a local bar and asks him to be her plus one for the week that she is home in return for an offer he can't refuse.
Without giving away anything of the story, I want to say what I absolutely LOVED about this book:
I loved the gripping tension between Clara and Boone from the very moment they saw each other for the first time in seven years; that despite the number of years that they were separated, they still had that connection and spark to elicit emotions from each other whether they were happy, sad, angry, or sweet
I loved how they stuck together through every interaction with her family; how they stood up to the people who wanted to shut them down and pass their negativity onto them. That despite their anger for each other, they still remained a solid unit.
What amazing secondary characters! Though some of them I absolutely despised, they all added layers to the story – tension, anger, family love that truly added to the story and kept me engaged from the beginning to the very end.
The funny moments that had me laughing out loud, imagining every scene in my head as if I were actually in the story (The Thing and the pantaloons LOL – read it so you know what I am referring to!)
Most of all, I loved that Nicole magically weaved a tale that touched my heart and soul to the very core. That this second chance love story gave me hope throughout my read, that love in the end would win. And most especially that feeling of satisfaction I felt as I closed my kindle with a sigh and my heart brimming with love that two characters could touch me so deeply and that I would never forget them.
THIS is what makes good books….That I didn't want their story to end…that I miss them already even though I was with them only two days ago, that I want Nicole to give us more of their story even after the end.
The definition of fable is "a story or statement that is not true; that is intended to teach a lesson" – and I loved this connection between the title and the actual story.
Nicole – Thank you for Clara and Boone's story – I love them completely!
Favorite Quotes:
Sometimes the people we're supposed to love are the hardest ones to. And sometimes the people we're not supposed to love are the easiest.
People say we're weak where we've been broken, but I say we're stronger. We're stronger because we know our weak spots and can protect them more carefully the next time.

Read a teaser from the book on Nicole's blog