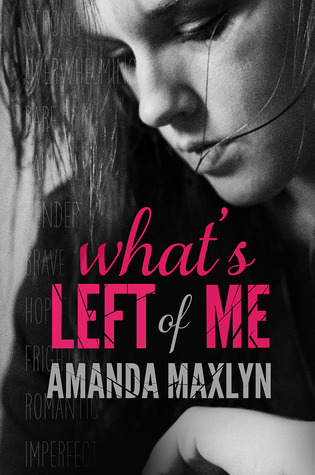 What's Left of Me

by Amanda Maxlyn
on December 13, 2013
Pages: 329
Buy on Amazon
Goodreads


Life works in mysterious ways.

Four years ago I became known as the girl with cancer.

I refuse to cry.

And I refuse to give in.

A relationship with a man is the last thing I'm looking for right now, but one night with Parker changes everything. He is persistent, and he knows what he wants. Me.

He doesn't treat me like I'm fragile.

But he doesn't know, and I'm not ready to tell him.

What if it changes everything?

Tragedy found me when I was seventeen.

Love found me when I was twenty-one.

My name is Aundrea McCall, and this is my journey.
Wow! This is my first Amanda Maxlyn book and will certainly not be my last. Beautifully written, breathtakingly emotional….This is an AMAZING debut novel.
This book and these characters captured my heart, mind, body and soul from page one.
Poor Aundrea, at such a young age becomes the girl with cancer. We, the readers are on her journey to survive and kick cancer's ass, only to watch this poor girl suffer time and time again.
What starts off as a one night stand to have fun and let loose and live life becomes something so much more. Parker Jackson is her light and as that saying goes, love heals all wounds. Parker is an amazing man, yes older than her and more mature with an established job as a veterinarian but he is so much more than this. He is patient and kind and relentless in his pursuit of Aundrea and I can't help but completely fall in love with him and root for him to win her heart because he has a true heart of gold.
Not wanting to take him on this path of emotional and physical ups and downs, Aundrea will try to hide her cancer from Parker. Though I don't know that I would have done the same, I did understand where she was coming from, trying to not fall in to deep with Parker and vice versa. I have to admit here that I felt for her so desperately. Her suffering was so tortuously painful, so realistic and heartbreaking. I was an emotional mess reading this book as I truly bonded with these characters and they had my heart.
So will Aundrea find a way to healing where she will kick cancer's ass??
You will have to read this book to find out!
I will say that there were some revelations in this book that caught me by surprise and gutted me. I am being purposely vague because I think you need to read this book to find out the outcome yourself. There is a book 2 in this series titled What's Left of Us and I can't wait to get my hands on it to see where this couple's journey will go next.
For a debut novel, I thought that this was so well written, an honest realistic look at a person's journey with cancer and somehow felt so personal – like I knew these characters and that they were my close friends. That's how emotionally vested I was in this book, the details and everything that went into this story completely captivated me. This was a beautiful book of truly living life and enjoying every moment, not being afraid to tell that person how much you love them because you never know what your future holds.
I look forward to more from Ms. Maxlyn – great job! <3