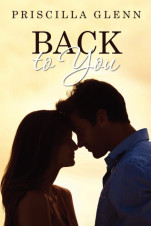 4 STARS!!!
Summary:
When Lauren Monroe first laid eyes on Michael Delaney back in high school, she had every reason to stay away from him; within minutes of their first encounter, his volatile actions confirmed his notorious reputation. But Lauren saw something in him that caused her to question his bad-boy persona, and against her better judgment, she took a chance. She had no way of knowing that the unlikely friendship they formed would become so important to her.
Or that it would end so painfully.
Eight years later, when Lauren begins her new job at Learn and Grow Day Care, Michael is the last person she expects to see. Refusing to revisit the hurt and confusion of their past, Lauren vows to keep her distance from him. But staying away from Michael proves to be more difficult than she thought, despite her lingering grief and her instincts for self-preservation.
As Lauren and Michael recall the friendship that changed them forever and the events that tore them apart, will they finally be able to heal? Or will the ghosts of Michael's past prove to be too much to overcome?
Denise's Review:
This book tells the story of Lauren Monroe and Michael Delaney; they meet in high school and are now face to face with each other eight years later.
For me this story was a nice contemporary romance; though I tend to prefer my books a bit hotter, I did enjoy this story. This book offers a story of  young love and second chances. The book does flip back and forth between years so read carefully.
Ms Glenn did a wonderful job building back story. The history between these two as well as the story of Michael's home life made for an engaging read.  You see how their friendship develops in the early years and you struggle with them as they are forced into each other's lives again (I do not want say more as I don't want to give away what Ms Glenn uses to bring them together). These aspects provided the story with richness, and fullness, you truly understood these characters.
For me the epilogue made this book, it was wonderful, touching, heartfelt and tied the whole story together.  A big thank you to Ms Glenn for that.
Back To You is a wonderful debut for this author.
About the Author:
Priscilla Glenn lives in New York with her husband and three beautiful children. She has been teaching English Language Arts at the middle and high school levels for the past eleven years. Glenn has written three books, although Back to You is her first published novel. Her guilty pleasures include great books, good wine, anything chocolate, and Robert Pattinson 🙂
For more information, visit her at http://www.facebook.com/pages/Back-to-You/29094….
Twitter Priscilla_Glenn