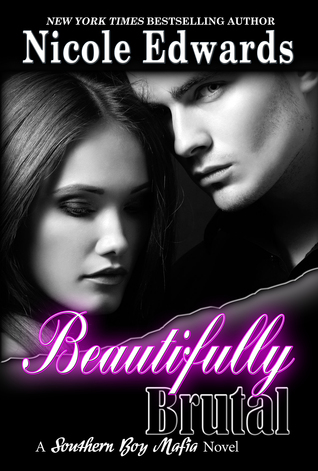 Beautifully Brutal

by Nicole Edwards
on June 16, 2015
Pages: 432
Buy on Amazon
Goodreads


Sometimes love isn't beautiful...
Sometimes the only way to describe it is beautifully brutal.

If you think you know him… You're wrong.
If you think you know his family… Wrong again.
If you think you know his story… You don't.

If you did, you'd likely wonder how the hell a man like Maximillian Adorite managed to make it to this point in his life. At twenty-nine, he's experienced more than most people could only ever imagine, all thanks to his family. Organized crime they call it. Mafia.

No matter how they spin it, it comes down to one thing. Max gets what he wants. Except for the one thing he wants most.

Her name is Courtney Kogan.

And now that he's had a taste of her, Max knows he'll never be able to let her go.

The Southern Boy Mafia series is a spinoff from the Sniper 1 Security series. It has been set up to be read without reading Sniper 1 Security, however, the characters will frequently cross over.
This book can easily be read as a stand alone…. though if you read Waiting for Morning (Sniper #1) like I did, you are likely dying to read Courtney and Max's story.
So though these series was woven together, spinning Max off into a new darker series makes so much sense. I loved this venture into the dark underworld of the mafia.
The blurb truly speaks volumes about this story:
Sometimes love isn't beautiful…
Sometimes the only way to describe it is beautifully brutal.
If you think you know him… You're wrong.
If you think you know his family… Wrong again.
If you think you know his story… You don't.
This modern day Romeo and Juliet captured by heart and has me very excited for the rest of this series and of the Sniper 1 series as the families overlap. I do plan to read them in the interwoven timeline that will develop and after reading this one, I think many readers will as well.
The connection Max and Courtney have is tangible to the reader and felt by the characters around them; characters from both families who don't see this as a good thing at all.
Courtney fighting this connection, though frustrating, was truly how I thought her character would behave.  And Max's finally warming to her… well you know something big is going to happen in his life… and when it does, it creates a tapestry of lies and connections that play directly into this dark story.
I will not tell you what finally brings Courtney to Max but I will say at 70% my heart …..sometimes you don't know what you really want until it's almost gone, and this scene was really laid out, weaving into other aspects of the plot and using secondary characters so well.   And as this played out, it allowed the reader to truly see, feel and accept that Courtney belongs in Max's world, despite her family ties, despite her prior reservations, her place is at his side!
Ashlynn, Max's sister and Leyton, his head of security, have a twist that played right into the story development.
And toward the end when they weave back in, when we hear from him, well… I can't wait for this one to play out!
I also can't wait to hear the story behind Aidan, Max's youngest brother as this is a family full of secrets.
Genevieve in the end found the courage to escape her prison in a masterfully crafted scene (and no I am not explaining that because I don't want to give anything away). I also loved Dane in this powerful scene toward the end!
There are so many selfless acts done in the name of loyalty in this book. Ms. Edwards truly paints a world where loyalty is everything and your word is your bond.
At the end of the book, I loved the tie in to the conversation you aren't sure Max "heard". It created for great banter and put a huge smile on my face. Max and Leyton truly have the bond of "brothers" despite having no tie by blood.
Then there was Jase… OMG, that was hot and I hope that means some trademark Edwards hot is next, not that this book lacks for heat because it doesn't but trust me when you read it, you will know why I call it "trademark Edwards hot"!
And when the author takes this step,  Max is going to let lose his ever loving mind!
So many great characters and hints at backstories and what's to come. I am not even sure whose story I almost excited for next!!
Ok maybe I am most excited about RT and Z, because it's been awhile since Ms. Edwards wrote an m/m story and the chemistry for these two is already off the charts!
Though towards the end I found myself wishing I could dive right into Ashlynn, Max's sisters story…sooooo yes I am very excited for more!
Oh P.S. I have to add I am so excited that the clubs Max owns will have a series of novellas, so we can all get a glimpse into them! Book 1   Without Regret: Devil's Playground Las Vegas