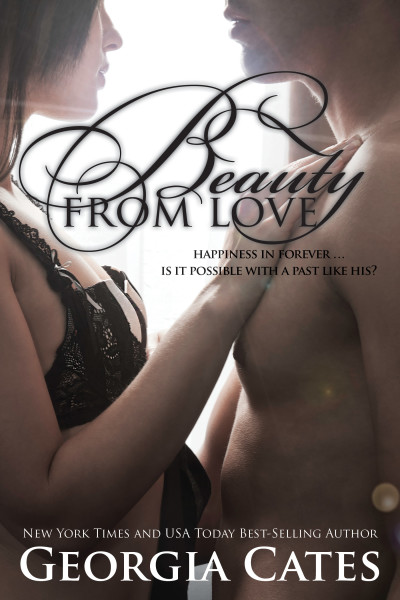 The epic romance between an all-American beauty and her Aussie continues in this final installment of The Beauty Series.
Jack McLachlan is fulfilled by more than he dared to dream possible. He finds everything he never knew he wanted—or needed—in Laurelyn Prescott, his last and final companion. Life is beautiful with his beloved by his side but their post-wedded bliss is cut short when his dark past springs into their present happiness. He wants to shelter Laurelyn but keeping her untainted by his previous life proves impossible when yesterday's sins insist on returning to haunt him. Will it be possible for them to find happiness in their forever with a past like his?
Beauty From Love is an adult contemporary novel and is not intended for younger readers due to mature content.

Denise's 4 STAR Review!!!
Warning:  Do not read this book or this review if you have not read Beauty from Pain (Beauty #1)  and Beauty from Surrender (Beauty #2) .  I read both books last year and gave them 4.5 stars; I loved them!!
Beauty from Love is the continuation of Jack Henry and Laurelyn's love story; this book is their together story.  For me it was so nice to read this book, I love seeing the happy as life plays out; how you make it work past the "I love you" confessions and admissions of this person that they are the one; you the one capturing your soul, but then what? This book is the then what for Jack and Laurelyn.
I truly enjoyed what Ms. Cates did with this one; she wove a unique combination of the past affecting the present with life's circumstances to make for wonderful glimpses into Mr. and Mrs. McLachlan's life; yes you see the marriage as this book opens with their honeymoon and the heartfelt gift Jack gives Laurelyn. I really do not want to tell you what these two face or how they recover from it but I will say it felt true to the characters crafted and show that life is not easy but about fighting for what you want; and I loved that message.
One of the things I love about this book was Jack knowing what he wants; Jack working to get what he wanted for their future and his relentlessness in working to prove to Laurelyn that she is what he wants forever.
This book had me loving Margaret McLachlan, Jack's mom even more.  She had some wonderful scenes in this one; scenes that really showed Laurelyn the power of family; something Laurelyn never had before.
The end of this book really brought a smile to my face not just for the happy it brought but for the way Jack embraced it.

Georgia resides in rural Mississippi with her wonderful husband, Jeff, and their two beautiful daughters. She spent fourteen years as a labor and delivery nurse before she decided to pursue her dream of becoming an author and hasn't looked back yet.
When she's not writing, she's thinking about writing. When she's being domestic, she's listening to her iPod and visualizing scenes for her current work in progress. Every story coming from her always has a song to inspire it.
Series Reading Order
Book 1 – Beauty from Pain

Book 2 – Beauty from Surrender

Book 3 – Beauty from Love