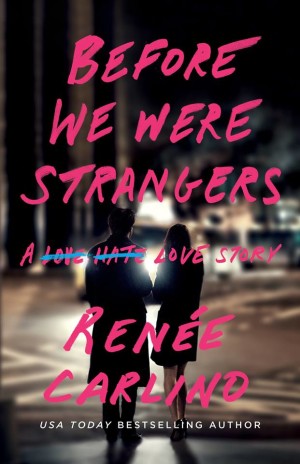 Before We Were Strangers

by Renée Carlino
on August 18, 2015
Pages: 320
Buy on Amazon, Buy on B&N, Buy on iTunes
Goodreads


From the USA TODAY bestselling author of Sweet Thing and Nowhere But Here comes a love story about a Craigslist "missed connection" post that gives two people a second chance at love fifteen years after they were separated in New York City.

To the Green-eyed Lovebird:

We met fifteen years ago, almost to the day, when I moved my stuff into the NYU dorm room next to yours at Senior House.

You called us fast friends. I like to think it was more.

We lived on nothing but the excitement of finding ourselves through music (you were obsessed with Jeff Buckley), photography (I couldn't stop taking pictures of you), hanging out in Washington Square Park, and all the weird things we did to make money. I learned more about myself that year than any other.

Yet, somehow, it all fell apart. We lost touch the summer after graduation when I went to South America to work for National Geographic. When I came back, you were gone. A part of me still wonders if I pushed you too hard after the wedding…

I didn't see you again until a month ago. It was a Wednesday. You were rocking back on your heels, balancing on that thick yellow line that runs along the subway platform, waiting for the F train. I didn't know it was you until it was too late, and then you were gone. Again. You said my name; I saw it on your lips. I tried to will the train to stop, just so I could say hello.

After seeing you, all of the youthful feelings and memories came flooding back to me, and now I've spent the better part of a month wondering what your life is like. I might be totally out of my mind, but would you like to get a drink with me and catch up on the last decade and a half?

M
As of late, I have been struggling with books. I don't know if its because I have gotten pickier but I haven't had a lot of luck this year. Before We Were Strangers came at the most perfect time and it cured me of my book slump and gave me book hangover! lol
The unique and captivating blurb caught my attention and this book was something I had to read immediately. I LOVE LOVE LOVE 2nd chance romance stories. They are my absolute favorite so this book was right up my alley.
Can you imagine losing touch with that one person that you loved completely, only to see them for the first time in 15 years in a subway station, where both of you are on opposite platforms and miss each other by seconds as the doors close?
I didn't see you again until a month ago. It was a Wednesday. You were rocking back on your heels, balancing on that thick yellow line that runs along the subway platform, waiting for the F train. I didn't know it was you until it was too late, and then you were gone. Again. You said my name; I saw it on your lips. I tried to will the train to stop, just so I could say hello.
There were SO many things that I loved about this book. Told in alternating present and past POV from both Matt and Grace- I fell so in love with this story, the characters, the happenstance, the emotions that it evoked in me, and of course the full circle journey that brings them in each other's path again.
When Grace and Matt met so long ago in college, they had such an idyllic, carefree, sweet and pure fun friendship though underneath it all, the reader can sense the potential for more. As I read this book, often times I felt my heart bursting with emotions for the characters especially Matt who seemed like such a one of a kind guy, that guy you want to take home to mom and dad and to one day marry.
As their relationship grows, the reader is swept away in what I feel is the epitome of a romantic love between a young man and girl. It was like watching a beautiful love story unfold before my eyes – simply magical.
Matt takes on a photography assignment with National Geographic which is an opportunity of a lifetime to only return months later and Grace is gone.
Fifteen years later, divorced and lost, Matt sees Grace that fateful day and puts an ad in the Missed Connections section of Craigslist hoping to find his Green-eyed Lovebird again and to reconnect with her.
Now of course I won't be telling you what happened as I fully believe that this is one book you need to add to your TBR right away but I will say this….To love someone so much and to get a chance for a redo after missed opportunities, miscommunication and lost time was so completely heartbreaking for me. I wanted to cry for these two characters as their plight really touched something in my soul. Ultimately, this is a beautifully told story of healing and forgiveness and how much fate is really a part of our lives.
This is Renee Carlino's BEST.WORK.YET. This book broke my heart and built it up all over again and is complete and utter perfection. Just read it….My words won't do it justice. This is most definitely one of my favorites of 2015 and a book that I will never ever forget <3