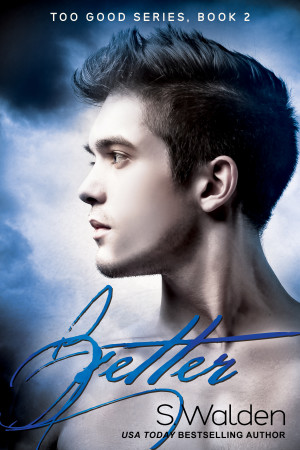 ---

Their relationship has been exposed, and now their lives are changed forever.
For Cadence Miller, the fast track to adulthood proves intimidating and frustrating. She's a little girl lost—abandoned by her family and uncertain of her future. She doesn't think she "fits" anywhere. She's eighteen. She wants to be older. And the result is both comical and heartbreaking.
Mark Connelly will do anything to provide Cadence a stable, loving home—to be her protector. But he's just as broken and lost, and his heart won't let go of his past so easily. He knows he should share his secret with Cadence. He should trust that she'll understand. But what if she doesn't? What if their love doesn't grow stronger?
What if it doesn't get better?
This is the final installment in the Too Good series by S. Walden and I truly enjoyed it. While I didn't love it as much as I LOVED GOOD, I was excited to devour this book in one sitting and complete the journey of Mark and Cadence.
BETTER starts off where GOOD left off. Cadence has run away from her home and has moved in with Mark to continue their relationship against her parents' wishes. This book had a lot more interweaving of faith and God mixed in with the story which I didn't mind so much as I am a Catholic but it may not sit well with others who do not have the same beliefs. At times, I felt it was almost too preachy and would have preferred less but I understand how faith and God were a huge theme in Cadance's upbringing and beliefs. God does give is free will and this is why their life is the way it is because of their choices.
Things that worked for me:
I continue to LOVE Mark in this book and his unwavering love and adoration of Cadence. While he has secrets that he hides from Cadence, I understood and could literally feel the emotion and sadness behind them. Being older than Cadence, I appreciated him being there for Cadence not only with his love but also with emotional support, being her only family when hers abandoned her (except her brother) and his need to take care of her and protect her. I adore that in a man – wanting to be a better man for his woman, wanting to take care of his woman, being so physically attracted to her that you could feel it coming from the pages. These are all things that Mark did well. While I would have wanted Mark to reveal his secrets earlier to Cadence, he was a better man when they all finally came out and he never abandoned her when she was angry, he never gave up on his love and he was there behind the scenes even when she continued to push him away. He is a great man and I simply loved everything about him. And for the record he does for the most part say the right things 🙂
What also worked for me were the secondary characters – Mark's mom who was not trying to replace Cadence's family but supported her and Mark despite the age difference and how they got together.
Avery – Cadence's best friend who is a total bitch but who is a friend for life. She never gave up on Cadence when she was having her complete meltdown and was a good support system throughout their relationship. Lastly I loved Dylan! I thought he was funny and provided the much needed comic relief throughout the book.
Things that didn't work for me:
Namely Cadence…..I understood her being upset for being left in the dark of Mark's past. What I didn't love was her immaturity and downward spiral and self destruction dealing with her pain. Cadence was so different when she was angry. we no longer saw her light. i felt bad for how she treated mark like she was punishing him and i thought she could have handled it better…maybe its because of her age and immaturity but I didn't love Cadence in this book as much as Book 1. Being in a relationship with an older man and having him apologize and offer support to talk to her, I would have thought she would have tried to listen more, relied on more trusted friends than the new ones she met in college. Basically I didn't love the choices that she made and that she never once considered how her destructive ways was affecting everyone around her.
In the end, this was one of the best epilogues I have read this year. It wasn't an easy journey for Mark and Cadence but I enjoyed the hope, faith, love, trust, healing and emotions I felt while reading this book. The epilogue had me hugging my kindle at the end and left a smile on my face. It was a glimpse into what forever was for these two fated soulmates.
S. Walden has proven time and time again what a phenomenal writer she is – its eloquent, beautifully written and captivating. I will read anything and everything she writes!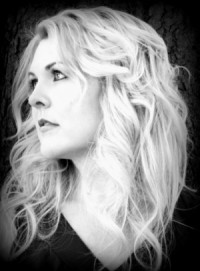 S. Walden used to teach English before making the best decision of her life by becoming a full-time writer. She lives in Georgia with her very supportive husband who prefers physics textbooks over fiction and has a difficult time understanding why her characters must have personality flaws. She is wary of small children, so she has a Westie instead. Her dreams include raising chickens and owning and operating a beachside inn on the Gulf Coast (chickens included). When she's not writing, she's thinking about it.
She loves her fans and loves to hear from them.
Series Reading Order
Book 1 – GOOD