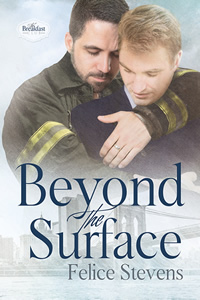 Beyond the Surface

by Felice Stevens
on August 2015
Buy on Amazon
Goodreads


On 9/11, firefighter Nick Fletcher's world changed forever. He's unable to rid himself of survivor's guilt, made worse by the secret he hides from his family and co-workers. Nick's life is centered around helping burn victims, until he is reunited with the man he'd once loved but pushed away. Now he has a second chance at a love he thought lost forever.

For fashion designer Julian Cornell, appearances mean everything. His love affairs are strictly casual, and the only thing he cares about is making his clothing line a success. A chance encounter with the man he loved long ago has Julian thinking for the first time in years there may be more to life than being seen at the best parties and what designer labels to wear.

When Julian's world takes an unexpected turn, it's Nick who helps him regain perspective on what matters most in life. Julian, in turn, helps Nick accept who he is and understand he isn't responsible for tragedies he couldn't prevent. Lost love found can be even sweeter the second time around and after all the years apart, both men learn to look beyond the surface to find the men they are inside.
Julian Cornell is a fashion designer, who when we meet him is atop the New York fashion world.. that is until his life takes an unexpected turn, one that puts him in the path of  Nick Fletcher.
Nick's life was changed forever on September 11th as he is New York City Fireman. I adored the use of this historical event and how it touched the lives of so many first responders. It also highlighted how for so many, this event will never leave their daily lives.  As a side note, Ms. Steven's handled this part of the story with classic and realism, so well done.
I adored witnessing Nick and Julian re-connect, because yes folks this is a second chance love story and though the author had me truly believing Nick and Julian were meant to be together, I also believe they belong together at this time in their lives and forever after!
Nick and Julian are not the same people they  were as teenagers, they are men, men grown anew by life experience.
"Whatever it was, seeing Nick again had ignited something inside Julian that had been dead for years. He'd had many lovers, some he'd been fond of and, maybe if he'd allowed himself, he might have loved one of them. But no one had led him to that place where he might miss them when they were gone."
Ms. Stevens masterfully wove these men's lives together as the book name speaks volumes to how Julian finds a new path in life, one Nick not only helps him find but one that heals them both… nope not telling read the book!
The name of this series comes from Julian's breakfast meeting with his two buddies from college, Zach and Marcus, both of whom added to the story line and who helped pull me into this book.
I am very much excited to read the rest of this series. I can't wait for shy Zach to have his story told and I am dying to watch Marcus the fast talking player fall hard when we get his HEA!