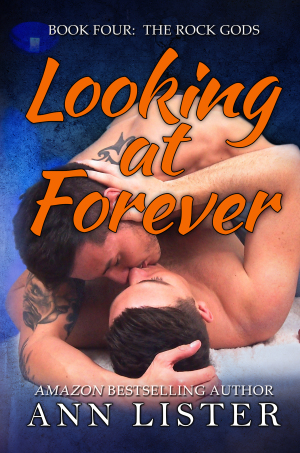 Looking At Forever

by Ann Lister
on November 30, 2014
Buy on Amazon
Goodreads


Mick Wheland, Ivory Tower's bad-boy guitarist, has recently realized two important things about himself. He prefers sex with men over women, and the idea of a committed relationship doesn't scare him as much as it once did. He's seen the positive effects of love from watching his band-mates find life partners, and now he's thinking he might be ready for the same himself. The problem is knowing where to look for Mr. Right, and living out of a suitcase while touring with a band is not exactly conducive to finding real love.

Sonny (Rooster) Roostarelli leaves the seclusion of his Vancouver cabin, where he went to lick his wounds after a contentious divorce, and moves back to Los Angeles. He claims relocating to L.A. is for business purposes, but now that the dust has settled on his failed marriage, Rooster feels he might finally be ready to settle down – with a man.

A chance encounter for Wheland and Rooster on a busy L.A. street rekindles an old friendship between the two professional musicians. Rooster needs a short-term place to stay and Wheland has plenty of extra space at his hillside estate and that lands Rooster in Wheland's guest room. What starts out as a music collaboration opportunity quickly turns personal when the chemistry they have becomes too strong to ignore and soon the music they're making spills from the studio and into the bedroom.

The road is a grueling bitch musicians love to hate. Being on stage under the hot lights can sometimes be the only place they feel comfortable and alive. Can two high-profile rock stars make a life together in such an artificial world – on and off the stage... or will past mistakes and family secrets keep them from finding their forever?
Looking at Forever is the story of Mick Wheland, Ivory Tower's bad-boy guitarist and Sonny (Rooster) Roostarelli also a musician, one returning to LA.
The way Wheland and Rooster run into each other made for a wonderful opening; one that allows the reader to feel the chemistry between these two but one that also has the reader wanting to know more about Wheland's past.
Wheland and Rooster form an easy friendship, one that starts to layer with sexual tension and finally one that is off the chart HOT! And than almost instantly the heat turns to emotion as Mick and Sonny embrace the connection.
Ms. Lister did a wonderful job of connecting these men on so many levels. And the use of each man's background in this book was used masterfully to move the story forward, to bond them and to further develop the story line.
There are a few wonderful scenes with the whole band as Ivory Tower returns to the stage and with that return to the road. Ms. Lister brings this series full circle, as the story pulls back in Dagger's band from book 1. The reader is then introduced to Dagger's  band members in a way that has me hoping they too get a story.
The men of Ivory Tower are brothers of choice and there is one scene in particular that was truly powerful, how the past is now the present; truly reminds the reader that our pasts are always present
The men of Ivory Tower deal with this issue only to have the present step forward and interfere with their current  plans. Living life through ups and downs is what makes for great bonds and true love.
As Wheland and Rooster work to build a life amidst the world of rock and roll, the reader is truly able to see their desire to make it work.
I truly loved the trust these two developed and watching them explore each other in bed, opening up to each other both emotionally and with their deepest sexual fantasies was powerful and hot as all get up.
Speaking of hot, in very subtle ways Ms. Lister managed to keep these men faithful while still having them feel like rockstars with an edge, it was truly masterful.
I thoroughly enjoyed Looking at Forever; Wheland and Rooster's journey to happy had me engaged and wishing each day for more reading time.
Though it can likely be read as a standalone, I think it is best enjoyed as part of The Rock Gods series!
Oh P.S. Ms. Lister, I hope Tony and Jared, the final to band members, are next because I loved the story line developing between them.

 Read the Bonus Chapter – Dungeon by clicking HERE!!!
Enjoy!
♥READ THE BOOKS♥
Book 1 – Fall for Me
Book 2 – Take What You Want
Book 3 – Make You Mine
Book 4 – Looking at Forever