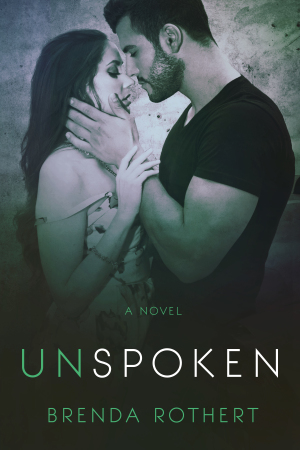 Unspoken

by Brenda Rothert
on October 21, 2014
Buy on Amazon
Goodreads


Palmer Sinclair was on the edge of happily ever after when she broke off her engagement to Brady Grant. The end of their relationship marked the beginning of a painful solitary journey for her. Though she makes places beautiful with her work as an interior designer, the rest of her life is anything but beautiful – it's slowly pulling her under.

Brady, a contractor, is swiftly building his business into an empire. Work is a faithful companion that never lets him down like Palmer did. When he sees women now, it's on his terms. And his terms are simple: just sex. He won't let a woman break him again.

Palmer is barely holding it together when she and Brady are unexpectedly paired on a project after a year apart. The pull between them is stronger than ever, but the fallout from their reconnection leaves them both wondering if maybe some things are better left unsaid.
Unspoken is a second chance romance centered around Palmer Sinclair and Brady Grant.
The opening of this story shows you a happy between Palmer and Brady, one that is shattered when life pushes and pulls these two in so many directions.   Ms. Rothert had my heart in my throat and my eyes tearing up within the first few chapters. Life is sometimes messy and complicated and sadly often times when the world is falling apart we lash out at the ones we love most.
Palmer and Brady are thrust back together when work puts them in each other's paths.  The connection they still share is very clear to the reader and yes I was instantly rooting for them to figure it out.
I want to pause and say I do not want to give away the details about what tore these two apart or the events that are still very much apart of their lives when they reconnect but I will say love is not hearts and flowers, it is about being there when things are tough. Palmer learns this the hard way.
The end of this book so pulled at my heart though Palmer won't ever be the same and her life is altered in a way that affects the path of her life, the life craved out was perfect.
Palmer and Brady's happy is so true to these characters and the events in this emotion; a real feeling story.
I truly hope Ms. Rothert writes a happy for Troy, Brady's brother!

Palmer
This wasn't the wedding day of my dreams – it was something much more. I'd only dreamed about things like seeing Brady waiting for me at the end of the aisle, our first dance as husband and wife; my hair looking perfect in the photos.
But none of those things mattered compared to the deep sense of peace and certainty I had as I approached Brady on a sunny Saturday afternoon. His hand rested on the shoulder of his best man – Danny.
The sight of the two of them in their tuxedos made my eyes burn with the tears that wanted to spill over. In all the ways that mattered, we were already a family. Today was about making it official.
The glow on Danny's face was one of pure joy. He knew this was the day I got to wear a pretty dress and that Brady would be his brother when it was over. That was all he'd needed to hear to be sold.
Brady's expression was more serious. His green eyes never left mine as I stepped closer to him.
A light breeze brushed over the skin my sleeveless dress left exposed, ruffling through Brady's dark hair. I suddenly felt a pang for my mom. They often hit when I was outdoors. The blooming flowers and budding trees in my first spring without her had been sad and uplifting at the same time.
Mom always loved spring. She'd gardened without gloves in her small yard, because she liked the feel of the cool soil on her hands. I was clutching a bouquet of one of her favorite flowers, calla lilies, today.
I stroked a finger over the satin of a purple hair ribbon I'd tied high around the stems. It was one Mom had tied into my hair when I was a girl, and though I wished so much that she could be looking at me right now, having this tiny piece of her gave me joy.
Danny was beaming when I reached him and Brady.
"Almer!" he cried, reaching for me. I handed my bouquet over to Georges, my man of honor, and reached for Danny, embracing him. Amanda, who was a bridesmaid, had been keeping an eye on him today. She'd told me he was happy, but also nervous because of all the people at our outdoor ceremony. It was small and intimate, but Danny wasn't used to being around 50 people at once.
When I pulled back, I kissed his bristled cheek and smiled at him. Amanda would break away from the ceremony and take Danny somewhere quiet if needed, but I hoped he'd make it through.
I stood and met the eyes of the man I was so in love with. Brady reached for my hands, squeezing them reassuringly. When he mouthed the words 'I love you', we became the only people in the world.
The pastor opened the ceremony, but I was only aware of the lightness I felt right now. I could have floated away from this sense of weightlessness. I'd waited so long for this. I wanted to spend my life returning the unconditional love Brady had shown me.
When it was his turn to say his vows, a flicker of nervousness passed over Brady's face. Public speaking wasn't his thing, and being tender in public really wasn't. I'd told him several times that we could go with the "good times and bad, sickness and health" standby, but he'd been adamant about writing his own.
"Palmer," he started, taking a deep breath. "You and Danny are my whole world. I love you with everything I am. Today you're marrying a builder, and here's my promise to you. Nothing works without a strong foundation, so I promise to be the foundation of a strong family by being honest and true. To build something well requires walls that are perfectly straight. I promise to always be faithful to you, not just in the good times, but through all times. A roof provides protection from the elements, and I promise to always be your shelter."
I took one hand away from his to brush away tears from my own cheeks and wipe one from the corner of his eye before squeezing his hand back into mine. This man who thought he was no good at being tender was melting me into a puddle.
He continued. "I've never built anything that means as much as you and me. I promise our family will always be the most important thing in my life."
His small sigh of relief told me he was done, and I reached a hand up to stroke his cheek. The pastor prompted me to say my vows to him, and I felt a flicker of nervousness myself. Georges had been teasing me all week – telling me to make sure I didn't accidentally say the word 'cock' during my vows. I hadn't been worried about it until he started bringing it up mercilessly, and now it was in the back of my mind. I wanted to kick him right now.
I took a cleansing breath and squeezed Brady's hands as I started. "Brady, I can't say you're the man of my dreams, because truthfully, you're so much more. I never dreamed I'd find anyone so strong. I never dreamed anyone would love me even when I'm acting unlovable. I never dreamed a man would accept my family as their own and love them just as much as I do. I promise to spend our life together loving and honoring you. I promise you everything I am, and everything I ever will be."
We were both crying again. This time it was Brady who swiped a thumb across my cheek before sniffing and wiping it over his own. We both smiled sheepishly. Today we couldn't use sex to share our feelings – we only had words. Though I planned on making up for that tonight.
The pastor told Brady he could kiss me, and he wrapped a hand around the back of my neck the way I loved and leaned down, his lips meeting mine softly at first. But then he became more insistent, nipping at my lower lip for just a second. I tasted mint and desire. And I wanted to taste more.
We'd scheduled nothing during our honeymoon to the Bahamas, knowing we'd have all the entertainment we wanted right in our room at the resort. Amanda was staying with Danny for the week, and I knew she'd take good care of him.
"Ladies and gentlemen, Mr. and Mrs. Brady Grant," the pastor said. We turned to our family and I smiled. Brady's dad Tucker was in the front row, clapping and cheering. His mom was right next to him, trails of tears on both cheeks.
A ray of sun broke past a cloud, shining a beam of light onto me and Brady. I felt my mom's presence in the warmth that shone down, and the day I'd thought couldn't be perfect because she wasn't here suddenly was.