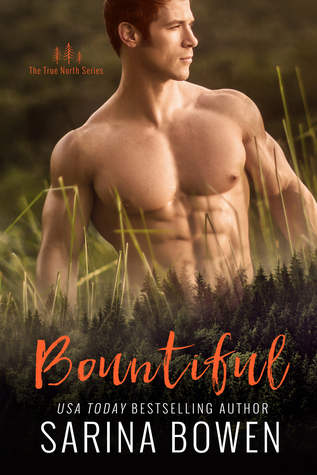 Bountiful

by Sarina Bowen
on October 20, 2017
Pages: 315
Buy on Amazon, Buy on B&N, Buy on iTunes, Buy on Kobo
Goodreads


No last names. No life stories. Those were the rules.

Once upon a time a cocky, copper-haired tourist sauntered into Zara's bar. And even though she knew better, Zara indulged in a cure for the small-town blues. It was supposed to be an uncomplicated fling—a few sizzling weeks before he went back to his life, and she moved on.

Until an accidental pregnancy changed her life.

Two years later, she's made peace with the notion that Dave No-Last-Name will never be found. Until one summer day when he walks into her coffee shop, leveling her with the same hot smile that always renders her defenseless.

Dave Beringer has never forgotten the intense month he spent with prickly Zara. Their nights together were the first true intimacy he'd ever experienced. But the discovery of his child is the shock of a lifetime, and his ugly past puts relationships and family out of reach.

Or does it? Vermont's countryside has a way of nurturing even tortured souls. The fields and the orchards—and hard won love—are Bountiful.
I loved this story but first I should say I LOVE this series….. Zara's transformation throughout the True North Series was true artist mastery.  It has made me even more impressed with this author's talents.
Can this book be read standalone if you love single mom books? Sure, but take the chance and click book 1 (Bittersweet) and enjoy this beautifully crafted journey of personal growth and forever love.
I adored Zara and Dave's story in Bountiful!  Zara is a local to the small Vermont town the book is set in. Oh warning: this book gets hot quick as you see how Zara is now a single mom.  This heat also provides glimpses into a deeper connection—one both parties seem willing to ignore.
Dave is a tourist visiting for the summer… I won't tell you who Dave Beringer is because bearing witness to it unfolding in the story was so much fun.
And you know what was even more fun… having a front row seat to Dave falling in love and working to make that happen!
I want to make sure to say Dave's sister was a wonderful addition to this cast. And speaking of cast it was great to see the couples from the prior books living their HEA's out! I do think Dave's sister, who also happens to be his agent, deserves a happy!
This story felt truthful and it was powerful… no fluff, just two guarded people finding a happy they never expected and would not give up for the world! It truly felt like this was the way it was supposed to be, though not a traditional path to love. I can't seem to imagine Zara and Dave's journey any other way.
I want to say again the direct approach in this book was something I loved!
P.S. Watching Dave with Nicole will melt your heart!