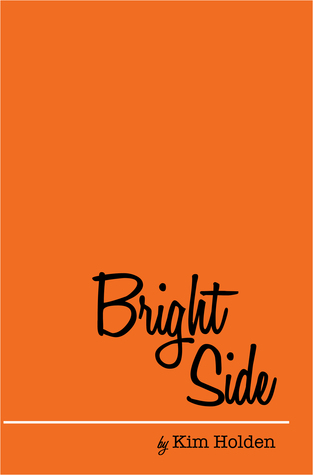 Bright Side

by Kim Holden
on July 4, 2014
Buy on Amazon
Goodreads


Secrets.
Everyone has one.
Some are bigger than others.
And when secrets are revealed,
Some will heal you ...
And some will end you.

Kate Sedgwick's life has been anything but typical. She's endured hardship and tragedy, but throughout it all she remains happy and optimistic (there's a reason her best friend Gus calls her Bright Side). Kate is strong-willed, funny, smart, and musically gifted. She's also never believed in love. So when Kate leaves San Diego to attend college in the small town of Grant, Minnesota, the last thing she expects is to fall in love with Keller Banks.

They both feel it.
But they each have a reason to fight it.
They each have a secret.

And when secrets are revealed,
Some will heal you …
And some will end you.
This book came at the best time for me. You see I was in a little bit of a reading slump…honestly if I had read this book sooner in 2014, it would have definitely made it on my Top Fave List of 2014…as such it will most definitely be on my 2015 list.
I read this book in one day….I couldn't put it down. And at the end…yes, I was sobbing into my pillow at 4am hoping that I would not wake my sleeping husband next to me.
This is one book that will give you the feels…I felt everything – the happiness, the laughter, the love and yes ultimately the sadness that completely broke me.
Kim Holden is a new author and if you have not had the chance to read this book yet, I recommend you do so ASAP – masterfully written, powerful and just simply beautiful – this is one you don't want to miss.
Lets talk about the things I loved the most….
Foremost the characters:
Kate has a true heart of gold. A genuinely kind and loving person who sees the good in everyone and everything. Nicknamed appropriately as Bright Side, I loved her from the moment I met her, I trusted in her, believed in her and so badly just wanted to be her friend. She put a constant smile on my face with her positive and inspiring thoughts.
Gus, her best friend who she has known since she was a child. Living next door to each other, Kate didn't have a great upbringing or mother so Gus and his mom were another family to her. Gus is a musician for the band Rook and has just gotten signed to make an album and tour. Their friendship is limitless and they know each other like no other. Their friendship is heartfelt, strong and true and I couldn't help but feel envious for this strong love and friendship that they had between them.
Kate leaves home to go to college and to just live life, start anew, do something different and she meets Keller Banks. Not looking for love, Keller comes in unexpectedly and as a reader you can't help fall for this great guy who does have his own secrets but who also just captures your heart and soul…when we ultimately learn what his secrets are, I can't help but fall for this man even more….
The story:
Never has a story quite captured my heart as this one….so I know I am not saying too much but the story is one that makes you look at your life and appreciate what you have…it reminds you of what is important. The connection I felt to the story and characters and the way it just touched my heart was just beautiful. If my heart could sing about this book, it would. I'll be honest and say this story will wreck you but in the most wonderful way because it will change you forever.
Unforgettable characters and an inspiring story – I can't say anything more than just READ IT! And then go "Do Epic!" This is one that will stay with me for a LONG LONG time to come <3 and I can't wait to recommend it to all of my friends to read.
P.S. I am SO SO SO happy that Gus will be getting his own book….I loved this man and can't wait to read his story.
5 "I can't stop crying – go and Do Epic" Stars!!!