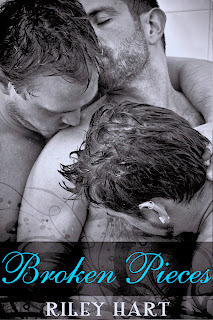 ---

Can three broken pieces make a whole?
Josiah Evans is the orphan who lost both his parents. He's sweet, shy, and all heart. He wants nothing more than to be loved.
Mateo Sanchez is the son of a gang leader. He's seen it all, and never hesitates to do what needs to be done, no matter what it is.
Tristan Croft is the wealthy attorney who clawed his way up from the bottom to rule his own world. He'll never depend on anyone but himself again.
Three men who couldn't be more different…and yet, as their lives intersect they find an uncommon balance that calms the storms inside each of them, and ignites fires hotter than they ever thought imaginable.
Told uniquely in three parts and spanning over ten years, BROKEN PIECES is a journey of healing for three fragmented souls, finding love in the unlikeliest of places—with each other.
As the blurb states, this book is written in three parts and takes place over 10 years.  I want to pause and say the time line and layout of the book truly added to the read as it allowed the reader to not only bond with the characters but it also allowed for deep connections to be formed between the men.
Ok the men, Josiah Evans the shy and kind orphan, Mateo Sanchez, the do-whatever needs to be done son of a gang-leader and Tristan Croft a wealthy suit.
Yes I mentioned three men and before you dismiss the book, I want to say it was so well done, each piece fitting together in the time and place to which the story is set, and as the pieces come together it does truly work.
Back to the book, on the surface you read the above, you picture the men in your mind and they seem worlds apart but appearances and perceptions can be deceiving as Broken Pieces truly allows the reader to think about what makes us who we are.
Ms. Hart's backstories for the each man paints a powerful picture of heartache, abuse, struggle and yes in the end triumph. But these events leave scars, scars that each must fight to overcome if they are to embrace true happiness.
In an interested spin to this theme, it is Tristan the man who appears to have it all, who truly struggles the most. He battle with his demons and acceptance of unconditional love has me wishing I could go back in time and the hug the scared little boy he used to be.
Ms. Hart did an amazing job crafting each of the three men in this book. I was impressed with how she had my heart breaking for each man at different points in this story.
I truly enjoyed Josiah, Mateo and Tristan's unique and powerful journey to a place, a happy they never expected
I am now going to ask Ms. Hart for something, yes I know we are getting more out of Josiah, Mateo and Tristan this summer (no this book is NOT a cliffhanger) but I would love a book 3 in this series, one about Ben, Tristan's friend from college, because Ben deserves his happy too!
And I want to repeat those who know me know I hate, like really hate cliffhangers so I will repeat this book is not a cliffhanger!
If you are open to a experiencing a journey with three men who find an untraditional happy pick up at copy of Broken Pieces today.


Riley Hart is the girl who wears her heart on her sleeve. She's a hopeless romantic. A lover of sexy stories, passionate men, and writing about all the trouble they can get into together. If she's not writing, you'll probably find her reading.
Riley lives in California with her awesome family, who she is thankful for everyday.