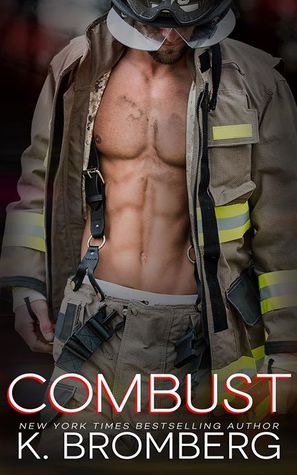 Combust

by K. Bromberg
on January 28, 2018
Buy on Amazon, Buy on B&N, Buy on iTunes, Buy on Kobo
Goodreads


From New York Times Bestselling author, K. Bromberg, comes the second standalone book in the Everyday Heroes series. Just how hot will firefighter Grady Malone turn up the heat?

Songwriter Dylan McCoy has been burned.

By her boyfriend she found in her bed . . . with someone else.

By the contract she signed that obligates her to work with him until the songs for his new album are complete.

By her agent when she asked Dylan to keep their breakup on the down-low.

When she finds herself in Sunnyville, she refuses to let her new roommate burn her too. Still . . . a rebound has never looked so good.

That's her first thought when she sees firefighter Grady Malone.
Sexy. Charismatic. Unapologetic. He's a man who carries his own scars—the ones on his back, the survivor's guilt on his soul, and the fear in his heart.

When an unexpected visitor puts their roommate status to the test, will their undeniable attraction burn out, or will they both take a chance and play with fire?
Denise's 4 STAR Combust Review:
Combust reminded my why I love K. Bromberg books; she has an amazing talent for weaving deep emotion into masterfully crafted backstories.
These two characters with pasts… I don't want to reveal the past or the wounds—so I will just say Dylan (female lead) and Grady both have their own dragons to slay so to speak.
The way Grady sees inside of Dylan's heart, the way he pushes her to open up about two things in her life truly spoke volumes to him wanting the best for her.
Grady and Dylan's friendship shined off the pages, the deep caring and wanting the best for each other brought a smile to may face numerous times!
The happy they found felt so perfect for them both in what it was and the timing. These characters were wounded, the author didn't heal them overnight, love didn't make it all go away—each over time discovered and pushed to be the best them.
Please note this book is easy read as a stand alone. I didn't read Cuffed book 1 in the series and had no issue but I have to say I am super excited to read book 3 in the series Cockpit about single dad Grayson Malone.
Christine's 4 STAR Combust Review:
"Because love is rarely pretty. It's messy. It's complicated. It's often ugly, but that's how you know when it's right. Pretty doesn't always last. It's the things you have to work at that make the reward that much sweeter."
So I love Bromberg's Everyday Heroes series… I knew that Kristy would give us something highly emotional and sweet and sexy in Combust and boy, did she deliver. Now I want to preface this by saying that my hubby is a volunteer fireman in our town and I love when I see him in his uniform so I knew just by looking at this cover that I WOULD LOVE THIS BOOK—and I did. 😉
Dylan McCoy leaves her boyfriend Jett for some time to heal, to regroup and to write music. She finds herself roommates with Grady Malone and I swear that man had me at first smile, first flirtation, first hello <3
I loved Dylan's strength to get away and find herself again… to not back down and take her cheating ex back because it was what she was used to doing. Bromberg's music writing was on point and I loved being in Dylan's heart and mind.
Grady is sweet, kind and sadly suffering from his own demons. His fears are something I fear when my hubby goes out on a call so I could relate to his pain, his suffering… his scars both physical and mental as he tried to keep himself at a distance from Dylan.
But boy, their chemistry is HOT! I loved their interactions, their openness and willingness to move past the scars and heal… their ability to find love.
Combust will make you feel and I am very much looking forward to reading the next Malone brother <3
Purchase your copy of COMBUST today!
Amazon US – http://amzn.to/2BAmRJq
Amazon UK – http://amzn.to/2DLWkhY
Amazon CA – http://amzn.to/2DI9tZs
iBooks – https://apple.co/2lVWTLr
Barnes and Noble – http://bit.ly/2CC1SKB
Kobo – http://bit.ly/2CzIyhT
Amazon Paperback – http://amzn.to/2GrjRCM
Add to Goodreads: http://bit.ly/2kQ9z8P