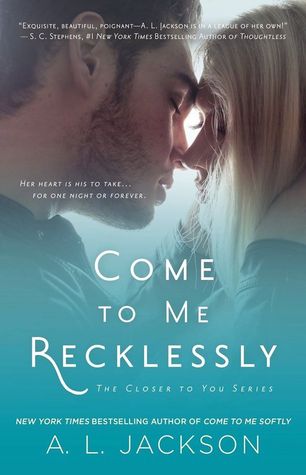 Come to Me Recklessly

by A.L. Jackson
on April 7, 2015
Buy on Amazon
Goodreads


His heart was turned off…

Until she turned him on…

Christopher Moore gave up on the idea of love years ago. Now, his life is an endless string of parties and an even longer string of girls. Enjoying the physical perks with none of the emotional mess, hes convinced everyone that hes satisfied—everyone but himself.

Samantha Schultz has moved on with her life. Finishing her student teaching and living with her boyfriend, shes deluded herself into believing shes content. But there is one boy she never forgot—her first love—and she keeps the memory of him locked up tight. She will never allow any man to break her the way Christopher did.

When Christopher's sister and her family move into a new neighborhood, Christopher is completely unprepared to find Samantha living at the end of the street. Memories and unspent desires send them on collision course of sex, lies, and lust. But when guilt and fear send Samantha running, Christopher will have to fight for what has always been his.
Happy Release Day to A.L Jackson and her new book COME TO ME RECKLESSLY!
A.L Jackson has a way of captivating you with her words from page 1 – simply breathtaking, poetic and lyrical. I have been waiting for Christopher's story since we met him in Come to Me Quietly and Ms. Jackson has yet again shown us that she is a force to be reckoned with. I do want to mention that Come to Me Recklessly can be read as a standalone however I adore this series and these characters so I encourage you to start from book 1 🙂
Samantha Schultz is living a lie – she believes that she is happy living with her boyfriend but deep down inside has never forgotten her first love, Christopher Moore.
It has been 7 years since they have seen each other, but upon seeing Christopher for the first time and experiencing his cruel and hurtful words, I can't help but wonder what happened 7 years ago to separate them? Can 2nd chances happen for those who have experienced such pain and anguish? Can they find forgiveness and move forward?
Told in present and past POV, I loved experiencing their first interactions growing up. Samantha is the pastor's daughter, innocent and good, and watching Christopher protect her, love her, giving her confidence in herself and teaching her how to live life fully was mesmerizing.
This couple throughout time will experience many hurdles, lies and hurt. It pained me to experience it because in my heart, I knew that they belonged together. Ms. Jackson gives readers "the feels" – I could literally feel the want, the heartbreak, and the love emitting from the pages of this book.
So I know I'm not telling you TOO much about the book as I feel that readers should experience stories for themselves but I will leave you with this….Beautiful imagery and emotionally connected characters – Ms. Jackson has written a spellbinding 2nd chance love story between a crazy boy and the girl who he has always loved that will stay with you for a long time to come <3 Move over Jared Holt because I have a new favorite AL Jackson boyfriend in Christopher Moore!
♥BUY THE SERIES♥
Book 1 – Come To Me Quietly
Book 2 – Come To Me Softly
Book 3 – Come To Me Recklessly