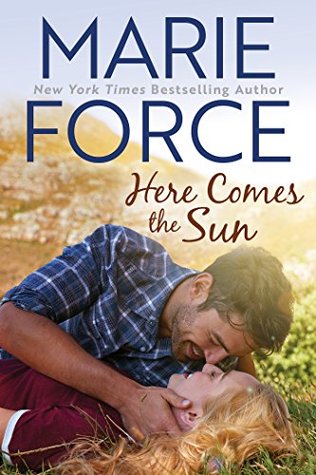 Here Comes the Sun

by Marie Force
Series: ,
on January 23, 2018
Buy on Amazon, Buy on B&N, Buy on iTunes, Buy on Kobo
Goodreads


Wade Abbott is one and done.

One look, one conversation, one weekend, and he knows who he wants.

Except, Mia Simpson is not free to return his affection. In fact, he suspects she's in an abusive marriage, but she never confirms that, and he has no choice but to mind his own business where she's concerned.

Two years after they first met and a year after he last heard from her, Mia shows up half-frozen, bruised and beaten on his doorstep, needing something only Wade can provide.

He's determined to make it work, no matter the cost. Grab the latest in a series you will fall in love with!

Reading Order for Green Mountain/Butler, Vermont Series
Green Mountain Series
Book 1: All You Need Is Love (Will & Cameron)
Book 2: I Want to Hold Your Hand (Hannah & Nolan)
Book 3: I Saw Her Standing There (Colton & Lucy)
Book 4: And I Love Her (Hunter & Megan)
Novella: You'll Be Mine (Will & Cameron's Wedding)
Book 5: It's Only Love (Ella & Gavin)
Book 6: Ain't She Sweet (Charley & Tyler)

Butler, Vermont Series
Book 1: Every Little Thing (Grayson & Emma)
Book 2: Can't Buy Me Love (Patrick & Mary)
Book 3: Here Comes the Sun (Wade & Mia)
I was captivated by Wade and Mia's story in Here Comes the Sun. Returning to Butler, VT and the Abbott family is like coming home. This series is everything I love about a family saga.
Ok so my dilemma… how do I share my love of this story without giving anything away… hmmmmm
I think the first thing to say is that when I put this book down to you know live life… the characters and the story continued to run around in my head.. calling me back to my kindle.
Wade's personality shown though in this one, no pun intended. I loved the backstory of this quiet Abbott sibling. I adored how Mrs. and Mr. Abbott tried to support him in all aspects of this life (his mom making him veggie chili and using a separate spoon to stir it was a beautiful example of this mother's love).
The happy Wade and Mia finds gets there is a very untraditional way… but the happy they find is so very perfect in more than one way… nope not telling read the book!
It is so clear to the reader that Wade and Mia share a unique connection and bearing witness to them exploring that was so enjoyable.
Ms. Force delivered some beyond funny scenes in this one…. there is a store meeting what was epically funny, like true laugh out loud humor with banter that had me re-reading the scene just to enjoy it again.
Speaking of love… I have to say I loved Hannah and Nolan in this one! They are so adorable.
Oh more Abbot love… Max, Max the youngest Abbott and the single Dad… I am excited to watch Max grow as this series continues and I hope some day we get a happy for him and Caden.
As usual Elmer and Linc steal the end of the book!
I want to make sure to add the twins Lucas and Landon were hysterical in this one… and now I am very, very curious to see how these men find a happy! I hope one of them is next in this series!
Oh I hope we someday get a happy for Mrs. Abbott's sister, Hannah Coleman. I loved the hint of finally a happy for her and I hope, hope we get to see a happy delivered by Ms. Force!
So you see this series is like coming home, visiting with friends, catching up and loving every moment of it.