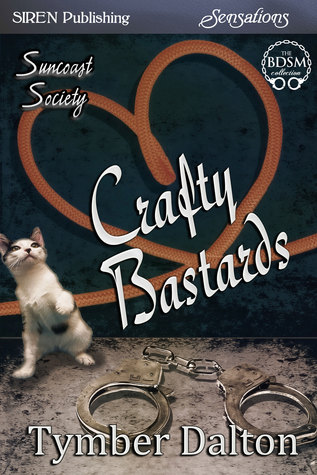 Crafty Bastards

by Tymber Dalton
on January 5, 2015
Buy on Amazon
Goodreads


[MMF menage with MM, BDSM, bondage, DP, anal sex/play, impact play]

Six months ago, Cali Charleston's heart got stomped on when her long-term boyfriend left, tossing her out of her home and her job. She's finally got a new apartment for her and her cat, Baxter. Then a fire displaces them, leaving her homeless once more.

Max Trendle and Sean Dennison were badly burned emotionally by a woman in their past. But Cali's not that woman. The two BDSM implement makers ask Cali to move in with them and soon have more on their minds than her helping them grow their business. They want Cali.

After losing what she thought was a sure-fire challenge, Cali quickly realizes sharing a bed with the two cuties isn't a hardship. She wants to help them build their business, even if it means her cat becomes an Internet sensation. When aftershocks from the men's past rattle her newfound bliss, can Cali figure out the truth, or will the two crafty bastards lose her forever?
I was lucky enough to have this book with me for a plane ride so I was able to spend a few hours simply living in this world! This book is stand alone. Ms. Dalton's Suncoast Society revolves around a BDSM club so feel free to pick up any book when the blurb grabs you. She is truly a master at writing BDSM; allowing the reader to understand the why for each party involved.
This book is a m/m/f menage that centers around Cali Charleston and the two men who want her in their bedroom, Max Trendle and Sean Dennison. Yes, I said in their bedroom, you see Max and Sean are lovers who share a home and a bedroom. Two men who would love to have a woman also in their bed but have almost given up on that due to hurt in the past.
Max and Sean are the two crafty bastards referred to in the title. They truly care about each other and have so much fun transitioning their BDSM and creativity into toys! Watching Cali help the men with their side project was so much fun as each character brought something to the business venture.
Max and Sean were WOW; I so loved how they put Cali first. Witnessing them revealizing she is their missing piece was so much fun.
Before I forget….OMG the moments with the cat and getting photos to trend on the internet was hysterical. Nope not telling read the book!
Max and Sean working to show Cali they want forever; that a menage can work was so well done. I truly believed them. And I think many women reading this book will wish they were Cali.
I am very much looking forward to continuing to read this series as Ms. Dalton's writing is something I truly enjoy.
♥READ THE SERIES♥
Book 1 – Safe Harbor
Book 2 – Cardinal's Rule
Book 3 – Domme by Default
Book 4 – The Reluctant Dom
Book 5 – The Denim Dom
Book 6 – Pinch Me
Book 7 – Broken Toy
Book 8 – A Clean Sweep
Book 9 – A Roll of the Dice
Book 10 – His Canvas
Book 11 – A Lovely Shade of Ouch
Book 12 – Crafty Bastards