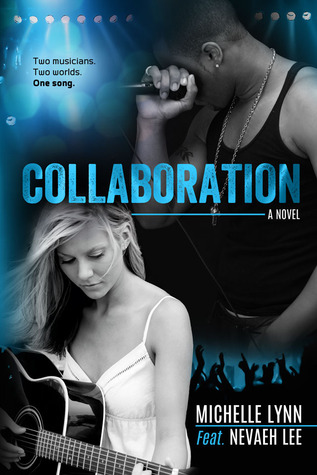 Enjoy a deleted scene below and make sure to enter the giveaway!  Good luck!!!
---

This is not your typical rock star romance. For one, the "rock star" is a rapper. And not just any rapper. Trace is the hottest ticket in the music industry right now, regardless of which definition of 'hot' you choose.
Taryn Starr is not the girl-next-door who unknowingly meets a celebrity. Known as "America's Sweetheart," the reigning country music princess and world-renowned superstar knows exactly who Trace is…or does she?
Their worlds collide when the musicians whose paths were never destined to cross are forced by their joint record label to collaborate on a song. The sparks fly and ignite a fire that blazes hotter with every minute they spend together—for better or worse. One thing's for certain, the two media magnets can't deny their explosive chemistry, but will life in the spotlight ultimately bring Trace and Taryn together or force them apart?
***This contemporary romance new adult novel is for mature audiences. The language alone would make a sailor blush (the guy's a rapper, remember?) so 18+ only, please.
Collaboration is the story of two superstar musicians, Country Music Star, Taryn Starr and Rapper Trace.. yes Trace has a longer name but I am not telling you as the telling of his full name within the book is part of a slowly unraveling backstory that I thought was so well done!
So Collaboration which released on Grammy night, opens on Grammy night! With scenes that really had me loving these characters and wanting more. It pulled me right in and has me wanting to know more about Taryn and Trace.
Taryn and Trace are thrown together by their record label and it becomes clear to the reader early on that there is an attraction, as the authors did a wonderful job using alternating POV's to express the attraction and connection they feel to each other.
Taryn and Trace are both in demand artists, both on tour, so their connection is built on the phone, via text messages truly allowing them to become friends, getting to know each other and allowing the reader to get to know them too.
I loved the moment they first connect, it was hot and engaging and has the reader believing that these two truly felt like the only two in the room.
Ok so for the elephant in the room and the thing I have not mentioned yet, this book is an interracial romance, because yes Trace is an African American rapper and Taryn is a white girl from down South.  Now I want to say that as it applied to the romance and the connection in this story, race was not an issue and I love that! It did feel so real to me that for some around these two and sadly for some in America it was an issue. It is something that felt true to the story and I thought it was handled in a classy fashion with the focus on the artists safety and not the speeches or context of the hate that finds them.
The book also makes the reader think about perception and stereotypes both Taryn and Trace are in the eyes of the media, painted and almost focused by their record label to be what the consumer expects. These authors did an amazing job with peeling back the layers and showing the reader what lies underneath, the truth about these two is not what the media sees or what those who listen to their music would have expected.  But in the end the truth always comes out; will they be embraced when secrets are revealed or rejected… well I won't tell you that nor will I tell you the secrets but I will say I loved loved the backstory assigned to each!
The end of this book was powerful and had me white knuckling my Kindle, as those truths are revealed and the life of a celebrity comes screeching as events transpire that will forever change them.
The Epilogue was amazing and it truly reflected both of these characters and how far they had some.
I also wanted to add that the events that brought them to this place really spoke to what it often takes to force someone to take stock of their life and focus on what is truly important!
Thank you to the authors for a very enjoyable read.
I am very much looking forward to book 2 in this series, one that I hope will tell the story of Gina, Taryn and Trace's mutual friend and one that will allow me to see these two happy in the background!!
Oh and P.S book 3 for Ryder, Taryn's guitarist!

Note from the Authors: This is from a scene that was cut when the story changed directions, but we both wanted it in the book so badly. It would have been part of Chapter 19 originally and we'd say more, but we don't want to give any of the story away for those who haven't read it yet. We're thrilled, however, to have this opportunity to share it with you and we hope you enjoy!
"So who wants to hear Trace's new number one hit?" screams the DJ over the ridiculously loud club crowd.
I can see Regina's raised eyebrows over the sunglasses she's wearing as I feel my stomach drop. Even hearing his name is killing me. Thankfully I'm wearing shades too, despite the fact that we're inside, or else she would immediately detect the pain in my eyes. I strain my ears to hear the song now being blared throughout the nightclub and then feel my mouth drop open when I do hear it.
Come on and hear my revelation
Don't wanna miss this declaration
Cause this ain't no collaboration
You gone and lost my cooperation
Throwin' at me every allegation
I guess I'm guilty by association
I can see the correlation
Must not've had much of a foundation
Your response was my confirmation
So consider this our termination
Oh shit…this is not good. Actually the rap itself really is, but I wouldn't expect anything less from Trace. As much as I want to cover my ears, I listen even more closely as he transitions into another part of the song, which is even more cringe worthy than the first—well, to me anyway.
You're just scared, shorty, why can't you admit
That you don't think I'm worth putting up with this shit.
So just keep on hidin' behind all those lies
Instead of lookin' at what's on the inside
I thought we were soulmates, that's what you had said
But the goin' got tough & you got goin' instead
You messin' with my mind
Make me want to scream and shout
Took their word over mine
The fuck's that all about?
You say we're too different
Girl, you know that ain't true
But when it all goes to hell
That's the story you wanna turn to
Did you forget what we did, what we said
That was more than a fuck that happened in your bed
Do you think, do you care,
Do you sit alone and stare
At the wall, at the mall, or do you think of me at all, doll?
Fuck the chills and the thrills, fuck the butterflies that I get
Every time you're near, I fear, so I just say 'fuck it'!
Cause it's obvious to them and to us that I must not be enough
Or you wouldn't run to the one, yeah that one, you're probably fuckin'
So darlin' can you hear, loud and clear that I've had my fill
Of this mother-fuckin' fun? Girl, we're through, we're done.
As the crowd goes wild, the DJ shouts, "I wonder who screwed him over? The guy sounds pissed! Well, whoever it is, the girl done fucked up…."
Before I can even wrap my head around what I just heard, Regina says, "That is so sweet." Say what?
Incredulous, I ask, "Did you listen to the same song I just did? There was nothing sweet about that!"
"Well, can you blame him? You broke his heart. The guy's gotta get it off his chest somehow—at least this is a healthy outlet."
"Yeah, I doubt this is the only way he's been getting me out of his system," I say bitterly. "Did you see the photos on TMZ yesterday?"
"I saw them, but I also saw the ones of him and me from last week and there wasn't anything going on between us, was there?" Regina asks.
"No, but that girl in those photos wasn't you," I remind her.
"You know as well as I do that things aren't always what they seem in our world. You're not even giving Trace the benefit of the doubt and doesn't he deserve at least that?" she asks pointedly.
"It doesn't matter anyway," I say, not answering her question. "You heard the song. He doesn't want anything to do with me."
"What I heard is someone who is hurt…badly. But you have to love deeply to be hurt like that, and the boy obviously still loves you. I would even bet my new Bugatti on that, Taryn. The angry words are just a mask for his profound hurt and love."
"You got all that from a song? Dang girl, once our days in the spotlight are over, you need to become a psychiatrist. I'll even be your first client," I joke, hoping we can change the subject. Hearing Trace's voice, even if he did sound mad as hell, made my heart ache and I decide I've had enough "fun" for one night. Throwing my purse over my shoulder, I suddenly stop when something clicks in my brain as I recall a line in the song as clear as day.
"Did he just tell the whole freakin' world that we slept together?!?" I screech.
Gina smirks. "Yup, he sure did. But relax, you heard the DJ. No one knows it's about you. Hell, maybe it really isn't about you—could be about somebody else," she suggests with a shrug.
I glare at her and her smirk turns into an ear-to-ear, shit-eating grin.
"That's what I thought," she says smugly and then begins to sing, echoing the words of the song we just heard. "You just scared girl, why can't you admit, that Trace is the one, he's the shit, he's it."
"Those were so not the words," I say, but can't stop the smile creeping across my face. Regina always knows exactly what to say to cheer me up. I still miss him like crazy and probably always will, but maybe I can be happy again someday—maybe.


Michelle Lynn
Michelle Lynn has always been a reader, but her passion has become a full-blown addiction since her husband bought her a Kindle for Mother's Day. She's pretty sure that he regrets this on a regular basis. Especially when she has it propped up next to the stove while she cooks, which often results in a burnt dinner. Or when he loses sleep because the glow from the screen wakes him up when he rolls over at three in the morning. He does agree, however, that she uses this gift more than any other he has ever gotten her. She joking counters that, because of some of the steamy novels she reads, he also benefits more from this gift than any other he has gotten her. 😉
Michelle moved around the Midwest most of her life, transferring from school to school before settling down in the outskirts of Chicago ten years ago, where she now resides with her husband and two kids. She developed a love of reading at a young age, which helped lay the foundation for her passion to write. With the encouragement of her family, she finally sat down and wrote one of the many stories that have been floating around in her head. When she isn't reading or writing, she can be found playing with her kids, talking to her mom on the phone, or hanging out with her family and friends. But after chasing around twin preschoolers all day, she always cherishes her relaxation time after putting the kids to bed.
Nevaeh Lee
Nevaeh's first exposure to writing began in a middle school creative writing class. She was reprimanded for composing a politically incorrect story and forced to re-write about a "safer" topic. Being the writing rebel that she is, Nevaeh always likes to push the envelope a bit and never re-writes, unless her editor insists on it.
When she's not writing, Nevaeh is a freelance book editor ;). And when she's not reading, writing, or editing, she can be found spending time with her family and taking road trips, exploring the area around wherever she happens to be living at the time. Even though "home" will always be Texas, she has lived in several different states and countries, but currently resides in the DC metro area.
She also adores her really big dog who frequently takes her for walks while enduring her many story ideas and rambling dialogue, which sometimes occurs in multiple languages. After many years of this, she finally decided to start writing out some of these stories and her first book, a joint effort called Collaboration, will be self-published on January 26, 2014.