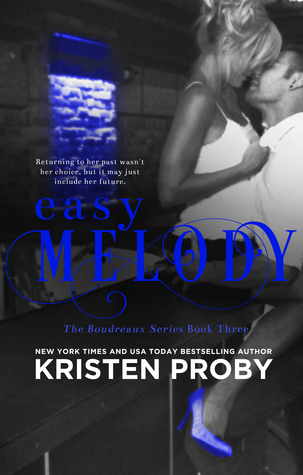 Easy Melody

by Kristen Proby
on November 10, 2015
Buy on Amazon
Goodreads


Callie Mills never intended to return to New Orleans and the life she left behind more than a decade ago. There was no need to open old wounds when she had the life she'd worked hard for in Denver. But when she's fired from her awesome job in Colorado and her father dies, she has no choice but to return home to run the derelict bar left to her in the heart of the French Quarter. Callie must not only face bad memories but turn The Odyssey into something she can be proud of.

And who better to help bring in crowds of people than Declan Boudreaux?

Declan is a sought-after musician who knows he's good at what he does and loves doing it. Known to pack the house, he also loves women and doesn't expect to be knocked back a step by the beautiful new owner of The Odyssey. Callie is sharp, gorgeous and funny, and makes him yearn for something he never has before… Commitment.

But when Callie's able to turn the business around with renovations, making it one of the hottest bars in the Quarter, will she sell out and leave her past behind once and for all, or will Declan be able to convince her that's she's where she needed to be all along…in his arms.
I need to start by saying that I love the Boudreaux family! This book is the story of Declan Boudreaux, the youngest male sibling.
Declan is a musician, a man who followed his heart and took to the stage while staying local to his family and roots in New Orleans.
Callie Mills is the new owner of one of Declan's favorite hangouts the Odyssey.  Callie became the new owner when her father passed away; the story surrounding Callie and her father pulled at my heart strings and played into the story as it unfolded.
Declan and Callie have a clear attraction to each other, one that when they give into was hot! Though I think anyone who has read a Kristen Proby book would expect that!
Declan is a man who never truly connected with a woman before, yes he had many but none who touched him.  Though it was clear Callie did, it was entertaining to witness him wrestle with that and often be a completely clueless man, something his brother and Ben had so much fun pointing out!
I did love Declan!
"Your love is like a song, and our song is an easy melody that plays, over and over, in my heart. Some days it's slow and sweet, and other days it's fast and loud, but it's always love. It's my favorite song."
Callie and Declan build a friendship that runs deeper than just their physical attraction.
I loved how independent Callie was, she was a savvy business woman determined to re-build the Odyssey! I also loved that as the book moved forward Callie learned that independent doesn't mean you have to do it alone. I think for me that may have been one of the best parts of this story.
It was so clear that Callie was affected by Declan like no one before in her life:
"When you're with me?"
"I just feel better. I feel more." His eyes widen and then darken.
"Emotions are brighter, and that's the only way I can describe it."
Ms. Proby has become infamous for her world building and for creating a cast of characters the pulls the reader in.  In Easy Melody, we not only get to continue to fall further in love with the Boudreaux family, we also get a new man to love, Callie's best friend Adam.  Adam made for some wonderful scenes and I am so excited that Adam is getting a happy in Easy for Keeps http://amzn.to/1kMEZra.
Speaking of Ms. Proby's worlds… I love the twist that tied some of the cast members from Ms. Proby's With Me in Seattle series, this series of scenes not only provided a much needed visit with this cast that I loved but it also showcased Declan's big heart and the developing relationship between Callie and Declan.
Speaking of family dynamics, in this one Mrs. Boudreaux or Mama as they call her had a number of very touching scenes.
In the end these two embrace what they find in each other:
"I wasn't expecting you, Declan Boudreaux," I begin and grin at him. "You were not a part of any of my plans, but you were the best surprise I've ever been given, the piece of my puzzle that I didn't know was missing."
I so hope we get Ben and Savannah (Declan's twin sister) soon as this one only added to me wanting these two to get together and build a forever happy!
The epilogue is a short and cute look into the next story Easy Kisses, the story of Simon and Charly. This was an adorable look at this sassy Boudreaux sister for whose story I can't wait for.

"Tell me about your tats," he says, looking at my arm. "They're amazing."
"Thanks." I glance down and look at the ink, thinking of the dozens of hours I sat in Brock's chair while he worked his magic. "I found a great artist in Denver."
"Do they mean anything?"
"They all mean something," I reply and bite my lip. "I'll tell you about them sometime."
"But not now."
"Not now." I shrug and lean my head back against the post, watching Declan through my lowered lashes. "Are you going to tell me what you were really thinking?"
"Are you going to tell me about your ink?"
I shake my head slowly, and he joins me, moving his head slowly back and forth while watching me with a soft smile on his full lips. The electricity between us is a living entity, crackling and popping. Can't he feel it too? How could he miss it?
Finally, I stand and gather the empty pizza box and beer bottles and carry them into the house to the garbage. Dec follows me, but he's a man of few words tonight.
He has something on his mind, but doesn't trust me enough yet to talk it out. That hurts, just a little, but I understand it too. There's still plenty I don't want to talk about with him.
I turn to go back outside and bump right into a solid six foot four inch wall of muscle.
"Sorry. I didn't see you there." I brace my hands on his arms to catch my balance and before I can back away, he reaches out and brushes his thumb over my lower lip.
"You have some pizza sauce here," he says softly. But he doesn't just wipe it away. Oh no, that would be too friend-like. Instead, he tucks his fingers under my chin, lifting my gaze a little higher, tilting my lips toward his. He's leaning into me, and I'd bet all of the tea in China that he's going to kiss me.
Please, God, kiss the fuck out of me.
His warm fingers are burning my skin, his hazel eyes holding on to mine. I couldn't look away if I wanted to. When his lips are mere inches from mine, he pulls in a long, deep breath full of regret, and backs away with the exhale.
"You'd better go," he says softly. I lick my lips and blink rapidly, as if I'm coming out of a trance.
Without a word, I walk past him, but before I can get out of the kitchen, he says, "Callie."
I glance over my shoulder, cocking a brow.
"Thanks for today." He smiles softly. His body is still tight with lust, and I want nothing more than to run back to him and fuck him, right there on the kitchen counter. Even if it is just a one-night stand.
Except, that's not what I want. And that's all he'd offer me.
Not good enough.
Instead, I nod once and walk out of the room, scoop up my handbag and beeline it to my car.
I don't take a breath until I'm three blocks away.
"What in the hell just happened?"
♥READ THE SERIES♥
Book 1 – Easy Love
Book 2 – Easy Charm
Book 3 – Easy Melody
Barnes and Noble ** iBooks ** Kobo