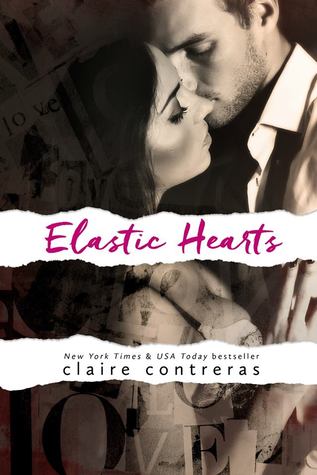 Elastic Hearts

by Claire Contreras
on March 20, 2016
Buy on Amazon
Goodreads


Victor Reuben.
Most sought out divorce attorney in LA.

Nicole Alessi.
Soon to be ex-wife of Hollywood's biggest star, Victor's latest client and his boss's daughter.

In such a high profile divorce, they can't afford any extra drama. Luckily, neither one of them has anything to hide.
Unless you count the mind blowing sex they had…
Once…
Twice…
Three times all those years ago.

As long as they leave the past where it belongs, they'll be fine. But with her wearing those tight dresses and him giving her those heated glances, keeping their hands to themselves is proving to be more difficult than either one of them realized.

It won't be long before the paparazzi start to smell smoke, and where there's smoke...
I absolutely love this series by Claire Contreras. Well truth be told, I love everything she writes but this series is so much fun because of the interconnecting characters in each book, great friends looking for their forever love.
Victor and Nicole have a past together of casual sex and hooking up for fun. For Victor who is an aspiring lawyer, his career comes first and he has no time for a real relationship or anything more. For Nicole, she pretends she doesn't want more though it is all a facade because Victor is the type of man you want in your heart (and in your bed!)
Fast forward a few years and Victor is at the top of his game as one of the most sought out divorce attorney's in LA and Nicole is now his client as she is divorcing her husband.
I have to say that the sexual chemistry between these two was SO FREAKING HOT! The push and pull between these characters plus the flirty bantering was so much fun and put a smile on my face.
Victor is totally uptight and neat (lol) but I loved him so much because he was so much different than Oliver and Jensen with his totally alpha behavior. And though Nicole lacks trust in the men department because of her husband and how he treated her, there is just something special about Victor that pulls her to him, that makes her want him like she has never wanted another before.
And yes, I wanted them to get it on lol but even more than that I respected Victor's respect for her marriage vows and wanting to keep things professional. So yes, while I wanted to throttle him at times and to tell him to just have his way with her already – I respected him wanting to wait. It made me love him even more!
I love revisiting this cast of characters. They are a part of my book family and every interaction, every scene where we could visit past characters put a huge smile on my face.
Claire Contreras is a must read author on my list; she again gives us an unforgettable read that warmed this reader's heart. Readers looking for something angsty, sexy and fun with a bit of that forbidden romance aspect should pick up Elastic Hearts. This is another wonderful addition to Claire's books and I can't wait to see what she has in store for us next! #vicole4ever

"This isn't going to work," he said finally, turning to face me as he stood behind the desk.
"What?"
"This. Us. Me on this case. It's not going to work."
"Because you want to fuck me against the window," I said.
He gripped the top of the chair tightly and dropped his head, but didn't comment on what I'd said. "Maybe we should just see each other when we have to . . . for the divorce," he said.
I let out a laugh. "I didn't plan to come here tonight, let alone run into you."
"You're right," he said, meeting my gaze. "You're right, but we should still stick to that plan."
"As my lawyer, I don't think you should let me make rash decisions when I'm drunk," I said. He looked down again, but I saw his smile before he tried to hide it.
"I'm serious, Nicole."
"That's fine, Victor. I get it. Is that it? I was talking to a really cute guy upstairs, and I still need to use the restroom. Maybe I'll take him with me." Even in my current state, I could see the way his eyes darkened at my suggestion.
"You just said you were drunk," he growled, gripping the chair harder.
"Not that drunk." I paused to search his face. "Would that upset you? If I hooked up with that guy in the bathroom? I kind of like bathroom hookups."
"Nicole," he said, his tone hard, his eyes searing into mine.  
"You know, you're actually the only guy I've done that with," I admitted. "But it was so hot. You kept saying all these dirty things in my ear, remember?"  
"I remember," he said, voice grating.
"You were doing that," I said, pointing at his fingers, which were digging into the top of the chair. "Gripping my ass. I had marks the next day, the soreness. So hot."
"Nicole," he growled.
Haven't read this series yet?
What are you waiting for?
*Each book in the Hearts Series follows a different couple and can be read as a standalone.*
♥ READ THE SERIES ♥
Book 1 – Kaleidoscope Hearts
Book 2 – Paper Hearts
Book 3 – Elastic Hearts