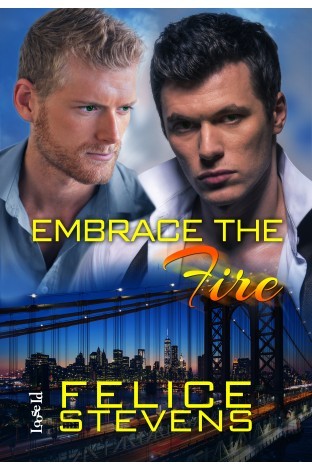 Embrace the Fire

by Felice Stevens
on May 26, 2015
Buy on Amazon
Goodreads


Brandon Gilbert has spent years in hiding, but finally he's accomplished his dream of working as a public school teacher. When offered the chance to help bullied children, there was no way he could say no. Not to mention that meeting Dr. Tash Weber, the psychiatrist who helps them, a sad yet sexy older man, ignited a spark inside Brandon he'd never had before.

Though five years have passed since the death of his lover, Dr. Sebastian "Tash" Weber has no interest in relationships or love. But young, enigmatic Brandon awakens his heart and his desire. Despite Tash's best efforts to push him away, Brandon unlocks the passion for life Tash thought he'd lost forever.

Falling in love wasn't part of the plan for either Brandon or Tash, but neither family disapproval nor self-doubts can stop them from embracing the fire that burns between them. And when Brandon returns home to fight for a future he never imagined possible, he and Tash discover that the one thing worth fighting for has been with them all along.
If you have not read this series, I highly recommend you stop reading this review and go 1-click book 1 A Walk Through Fire. This series unravels the story of three foster brothers who were forced apart by circumstances of their youth.  Book 1 is Asher, Book 2 is Luke and now Book 3 is the youngest foster brother, Brandon.
This story builds to a wonderful conclusion as these men's lives unexpectedly and miraculously intersect.
Embrace the Fire opens with a powerful prologue that may bring a tear to your eye as the reader learns some of Brandon's past.
As the story opens, Brandon Gilbert is introduced to Dr. Sebastian "Tash" Weber. Tash is the psychiatrist readers of the series meet in book 2 as he is the one who helped him through his addiction.
Learning Tash's backstory put a lump in my throat as this man endured so much when he thought he had love in the past.
Tash and Brandon both have pasts to overcome, and watching Brandon come to face to face with him was such a testament to the power of love and forgiveness.
There is an age gap between Brandon and Tash. I loved how this was used by the cast to ponder the validity of this relationship and how Ms. Stevens showed this was not an issue for these two men.
The use of Drew's Nana (from book 1 and 2) was wonderful; this woman's love and support of these men truly prove love is not about blood but the desire to love and care for those you cherish.
The happy that Brandon and Tash find is one that  works for them but is also done with Brandon putting the demons of the past to rest.
As this books comes to a close, Ms. Steven's gives the readers an extra special surprise at the end of this one as we get a multi-layered epilogue, we get to see a happy for Ash and Drew, Luke and Jordan, Brandon and Tash and as an added bonus one for Mike and Rachel (Drew's sister.)
I loved this series, the writing grew as the story moved forward and each book connected me to this cast even more!
If you have not read it please check out the Exclusive Bonus Scene we hosted this Holiday season: http://bit.ly/HldyFSShh.
♥READ THE BOOKS♥
Book 1 – A Walk Through Fire
Book 2 – After the Fire
Book 3 – Embrace the Fire