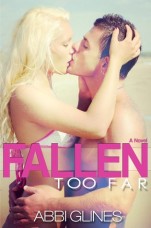 4 STARS!!!
Summary
To want what you're not supposed to have…
She is only nineteen.
She is his new stepfather's daughter.
She is still naïve and innocent due to spending the last three years taking care of her sick mother.
But for twenty-four year old Rush Finlay, she is the only thing that has ever been off limits. His famous father's guilt money, his mother's desperation to win his love, and his charm are the three reasons he has never been told no.
Blaire Wynn left her small farmhouse in Alabama, after her mother passed away, to move in with her father and his new wife in their sprawling beach house along the Florida gulf coast. She isn't prepared for the lifestyle change and she knows she'll never fit into this world. Then there is her sexy stepbrother who her father leaves her with for the summer while he runs off to Paris with his wife. Rush is as spoiled as he is gorgeous. He is also getting under her skin. She knows he is anything but good for her and that he'll never be faithful to anyone. He is jaded and has secrets Blaire knows she may never uncover but even knowing all of that…
Blaire just may have fallen too far.
Christine's Review
I am a major Vincent Boys and Vincent Brothers fan so when Fallen Too Far came out, of course I had to buy it and read it right away!  And Abbi didn't disappoint (cliffhanger and all! UGH!)
Blaire Wynn is 19 years old, has lost her mother, has no money and is forced to move to a ritzy area of Florida to live with her father (who abandoned them) and his new family.  She is mature beyond her years after taking care of her mother while she was sick.  She is strong and independent and owns a gun (and knows how to use it!)
Rush Finlay is 24 years old and is the son of a famous drummer.  He is rich, spoiled, experienced with the ladies, yet oh so charming.  He is your ultimate bad boy with his silver eyes, tongue piercing and tattoos! 
Yet when they meet, opposites do indeed attract and I felt an instant connection between them.  Blaire finds herself jealous of the other women that Rush brings home.  She has every girl's dream where she wishes she is enough for someone to want and love but she recognizes that Rush is dangerous for her heart and she tries to avoid him.  Conversely, Rush thinks that she is too perfect, too innocent and does his best to avoid her.  But he can't stop himself from feeling overprotective of her.  From wanting her.
"That first night I tried to get rid of you.  Not because I disliked you." He let out a hard bitter laugh.  "But because I knew.  I knew you'd get under my skin.  I knew I wouldn't be able to stay away.  Maybe I hated you a little bit then because of the weakness you'd be able to find in me."
When they finally kiss, and as you watch them fall in love with one another, you can't help but feel it all warm and tingly inside.  In a lot of ways, Blaire is Rush's first in many things – she is his exception.  You want them to work out because they just have to!
But what secret is he hiding?  Everyone seems to know what's going on but Blaire – they have eluded it to her many different times but no one wants to tell her the truth.  Why does his sister Nan hate her so much?
And as the story continues and we finally find out, WHAM!  I CAN'T BELIEVE THAT JUST HAPPENED!  And now my heart is just broken.  Can they forgive?  Can they learn to love again after so much pain?  I CAN NOT wait until March 12th for the continuation of this story – Never Too Far.  Thank you Abbi Glines for another great read – I love Blaire and Rush and can't wait to see what happens with them next.
"Everyone always said that love was enough.  It wasn't.  Not when your soul was shattered."
As a side note: there were some very interesting secondary characters that added something special to this story – Grant, the nicer one of the brothers; Woods – her boss, who seems to be the nice guy, always looking out for her and protecting her while we know he is also attracted to her – these are two that I would LOVE to see a story or two about!! HINT HINT!
About the Author
Abbi Glines can be found hanging out with rockstars, taking out her yacht on weekends for a party cruise, sky diving, or surfing in Maui. Okay maybe she needs to keep her imagination focused on her writing only. In the real world, Abbi can be found hauling kids (several who seem to show up that don't belong to her) to all their social events, hiding under the covers with her MacBook in hopes her husband won't catch her watching Buffy on Netflix again, and sneaking off to Barnes and Noble to spend hours lost in the yummy goodness of books. Her debut novel, BREATHE, can be found in digital format at Barnes and Noble and Amazon. Existence, a YA paranormal, was released December 13, 2011 by Wild Child Publishing. She also released a YA contemporary romance, The Vincent Boys this Fall. She just released her first New Adult contemporary, Because of Low. She is currently editing the second book in the Existence Trilogy, Predestined. If you want to find her then check Twitter first because she has a severe addiction to tweeting @abbiglines. She also blogs regularly but rarely about anything life changing. She also really enjoys talking about herself in third person.
Twitter abbiglines
Website http://www.abbiglines.com
Facebook www.facebook.com/abbiglinesauthor
Goodreads http://www.goodreads.com/author/show/4872191.Abbi_Glines