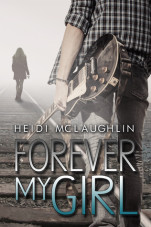 4.5 STARS!!!
Summary
I was never supposed to be a rock star. I had my life all planned out for me. Play football in college. Go to the NFL. Marry my high school sweetheart and live happily ever after.
I broke both our hearts that day when I told her I was leaving. I was young. I made the right decision for me, but the wrong decision for us. I've poured my soul into my music, but I've never forgotten her. Her smell, her smile.
And now I'm going back.
After ten years.
I hope I can explain that after all this time.
I still want her to be my forever girl.
Christine's Review
What a great debut novel from Heidi McLaughlin!  I am on a total rock star kick right now and have found room in my heart to love another one – Liam Page (Westbury).  Heidi's story is a beautiful, captivating story of love lost, second chances, hope and most importantly love found again.
Liam and Josie dated in high school.  They had their lives planned out for them – get married, buy house, be an NFL football player, have children…but life doesn't always happen the way you plan.
Liam chooses another path in life – to follow his dream to Hollywood to become a musician leaving Josie behind.  It's not an easy decision as he throws away his seemingly perfect life and love and in the process breaks both of their hearts.
Liam is successful yet all alone.  His one night stands are meaningless and his thoughts are constantly on the love he lost and left behind.  Did he make the right decision or was it a mistake?  Is the fame worth all the pain of being alone?  Liam learns that this best friend Mason dies in a car accident and he returns home to mourn and honor his friend and to see the life and love he left and never really got over.
Josie will always hold a special place in her heart for Liam but she has had to move forward with her life for her son, Noah.  Josie owns a flower shop in town and lives with her boyfriend of six years, Nick.  They are engaged to be married but Nick has never replaced Liam in her heart. 
Liam expected Josie to be just as miserable as he has been – he has never had a serious relationship since her.  To him, Josie has always been his.  When Liam is confronted with the reality of what he left behind and what he is missing, we as readers, feel every emotion – all the hurt and pain that these characters experience.  Ten years is a lot to make up for, will Liam grow up and take responsibility and will Josie allow herself and her heart to open again for the only man she has ever loved?
My heart ached for Josie and Liam.  I enjoyed reading from both of their POV's because I liked to see what they were thinking.  I think Heidi did it right with all of the characters she created.  Josie showed strength in character by holding onto her family and by not making any rash decisions with regards to Nick and Liam.  I loved that Liam respected her enough by giving her the space she needed to make her own decision about where their path in life would go.  I loved that despite his bad boy exterior that he really has a big heart and wants to make up for what he has missed – I like even more that he wants "his girl" back.  I also really enjoyed the secondary characters.  I hurt when Mason passed away and I prayed for his wife Katelyn and their children to survive his death and be able to move forward.  I especially loved that Liam took care of them.  He wasn't a replacement for her husband and father but he stepped in for his best friend as Mason would have wanted him to.
I highly recommend this book to everyone who enjoys a good love story and wants to experience an emotional and romantic read.  I am truly looking forward to Heidi's next book and hope to see more of Liam and Josie…and Noah…and Katelyn and her kids…oh and Quinn and Harrison!  Job well done!
I kept hearing this song in my head as I was reading this book:
Some of my favorite quotes:
"I never thought I'd see the boy who stole my heart and failed to give it back.  I'm not sure I want it back."
"I plan to spend every day of my life making sure you both know how much I love you."
"I'm standing in front of you, Josie.  You just have to turn around."
"You're forever my girl."
About the Author
My grandma once told me that I can do anything I want, so I am.
Originally from the Pacific Northwest, I now live in picturesque Vermont, with my husband and two daughters. Also renting space in our home is an overhyper Beagle/Jack Russell and two Parakeets.
During the day you'll find me behind a desk talking about Land Use. At night, I'm writing one of the many stories I plan to release or sitting courtside during either daughter's basketball games.
I'm also an active reviewer on The Readiacs – a site I own with my best friend and uber special beta, Yvette.
Twitter HeidiJoVT
Website http://www.heidimclaughlin.com/
Facebook http://www.facebook.com/#!/HeidiMcLaughlinAuthor?fref=ts
Goodreads http://www.goodreads.com/author/show/6568302.Heidi_McLaughlin