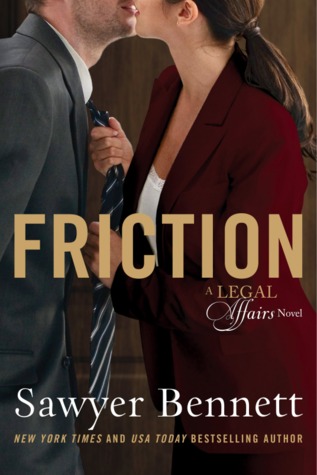 Friction

by Sawyer Bennett
on October 27, 2015
Pages: 288
Buy on Amazon
Goodreads


At the powerhouse law firm of Knight & Payne, winning comes first and ethics a distant second. Leary Michaels uses her female charms to daze opponents, and it's always worked well—until now. On her most personal case yet, she finds herself going up against a defense attorney just as skilled, shameless, and seductive as she is.

Reeve Holloway has never met a woman as sure of her own sexuality, or as ruthless in wielding it, as Leary is. But he won't be toyed with. What Leary starts, he'll finish—in the courtroom, the bedroom, or any-damn-place he wants. The sex is uninhibited, electrifying, and absolutely against the rules. Reeve's job is to ruin Leary's case…even if it destroys her in the process and costs him the woman he's come to love.
Friction is the story of two lawyers, Leary and Reeves; they set out do battle in the courtroom but an undeniable attraction has them steaming up the pages all while pushing the readers thoughts of right and wrong… is the world truly back and white .. well the real world may take place in the grey.
The prologue to this book was masterfully written, it gives the readers tremendous insight to the Leary we will see throughout the book as it foreshadows many elements of the story that affect both Leary and Reeves.
This was one of the best uses of a prologue I have read in months.
When Reeve and Leary connect it is explosive; dirty talk and often no holds barred when it comes to flirting and the where and when they touch is so hot!
Here is just a taste of Reeve's mouth:
"It's irrelevant to me if you have a date tonight. I'm only interested if when you go to bed, you'll be thinking of your date or my c&ck. Maybe you'll call me tomorrow and tell me."
This book pulls no punches, these lawyers push the lines, they play in those grey areas.
The one thing I want to make sure to say about Reeve was that I adored how he was turned on by a strong woman, he was drawn to Leary's strength and in awe of her in the courtroom and I loved him for it!
When the reader learns why Leary is truly so vested in this client and in this case my heart broke for her.
Leary's colleague, mentor and sometimes friend with benefits Ford played a perfect in this book. The use of Ford throughout the book was masterful, the reader understands their sex is sex for sex and their friendship runs deep but that it is not love.
It was an epic twist that Ford and Reeve knew each other and I liked how this played out. I truly hope that Ford gets a happy as this man touched my soul, his friendship to Leary, his desire to see her happy had me wanting him to find his soulmate.  Because Leary truly found hers in Reeve (and yes Ford and Leary know and respect that so no worries about a silly love triangle here).
The professional balance that Reeve and Leary strike felt real to me.  I loved their battling in the courtroom overlayed with their steamy connection. And yes, just as it would in real life, sometimes the lines blur and it is hard not to take the combative nature of the work personally.
Bearing witness to Reeve coming to terms with what was truly important, him deciding how he wants to live his life, what he wanted from career, what he wanted his legacy to be was powerful! How it unraveled and ultimately the happy warmed me heart!
This story was layered with steam, justice, humanity, the legal system and in the end a true look at what is that line for you.  I think this book will have many readers thinking about what that line is for them, how hard would they push their morals in order to do the right thing.