Getting a Grip

by M.E. Carter
on July 18, 2017
Buy on Amazon
Goodreads

This isn't my life. Okay, it is my life, but not the way I envisioned it would be.

I wasn't supposed to be a divorced mother of three when I turned the big 4-0. Sure, I expected the fine lines, gray hairs and left over baby belly. What I didn't expect was expanding our family get-togethers by one… my ex-husband's new child bride. Ok, ok, she's not young. Maybe.

Did I mention this is not the life I planned?

It could always be worse, I know. I'm lucky to have a mother who loves to babysit, a best friend who loves sarcasm, and a new friend by the name of Greg who is a child whisperer and tells me my eyes are pretty.

Sigh… Greg.

The perfect, Adonis-like God of a man who keeps flirting with me. At least I think he's flirting with me. It's been so long, I don't really know.

Between birthday parties, a few ill-advised bouts with make-up, and a whole slew of gymnastics classes, it's finally time to take back some control.

So, while my girls learn all about how to grip the bar, I'm going to learn how to get a grip on my life. And maybe my heart.
WARNING: do not start reading Getting a Grip unless Balance Check is LOADED on your kindle as well (or both paperbacks are next to you!) Getting a Grip and Balance Check make for a fabulous story! Greg and Elena's story keep my glued to my kindle.
At a time when I was struggling to pick up a book, from the moment I opened this one, I wondered why it took me so long to dive in. This story reminded me of why I love to read.
I was so thankful I had a long car drive so that I could truly live in this story. I think my husband who was driving looked at me like 10 times because I was either grinning from ear to ear like the Cheshire cat or laughing out loud! And yes, I was soooooo grateful that the minute Getting a Grip ended I could continue reading Balance Check—I was THAT vested and my heart was so rooting for this couple.  I spent hours living in Greg and Elena's world!
The author had me feeling Elena's wide range of emotions as she is dealing with a divorce and the newly found challenge of being a single mom AND having the woman her husband cheated with now his new wife in her life. (Oh I want to mention the way her ex is used later in the story was so fun—a revenge for a man who forgot his vows.)
Greg was a character that grabbed my heart from the instant he stepped onto the scene!
Elena and her best friend Callie met Greg while with their young children. This made for some fun scenes as I often found myself feeling a smile on my face!  The friendship that developed paved the way for the relationship—this part for me had me knowing they were meant to be!
I loved that you could feel Greg's deep love for the children and his ability to parent made me love him even more.
Elena catching onto the meaning Greg's daughter's name in light of his clueless ex-wife was epic and spoke volumes to how easily these two get into each others heads!
When we meet Elena, her life is nothing like she thought it would be at 40, but by the end of the story, the reader knows with 100% certainty that this is the life she was meant to live.
Greg is her forever. Greg is the man who loves her unconditionally and the family that blends together is the happy she was always meant to live (she just didn't know it at the time).
I throughly enjoyed being immersed in a story about adults, with real world problems, and yes problems that just keep coming. This felt so real and tangible.
Getting a Grip and Balance Check truly speak to taking what life gives you and making the best out of it.
P.S. I love, LOVED the small twist that comes in the bedroom. It pulled me closer to Greg and reminds the reader no one is perfect. Everyone has challenges and struggles even if you don't seem them at first!
Buy the Books
Book 1 – Getting a Grip on Amazon
Book 2 – Balance Check on Amazon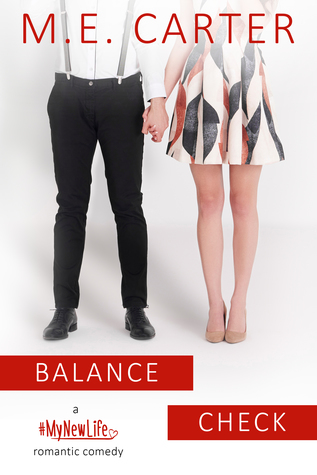 Life has a funny way of throwing you off balance.
Take me for example. I spent years in a bad marriage with a self-serving ass, only to have the love of my life show up when I least expected him. Greg helped me on my journey of self discovery and taught me that, no, I'm not perfect. But I'm perfectly me. It was an amazing journey.
We laughed hard. We loved even harder.
And then he was suddenly and cruelly ripped away from me by the unclenching jaws of fate.
Ok, so it wasn't that dramatic. And I really need to stop watching the Investigation Channel.
But now Greg is back and as it turns out, re-incorporating someone into your life isn't that easy. Between jobs, kids, and barely-there friendships, life and love can be messy. Making it all work is a balancing act.
But we're determined to get it in check.