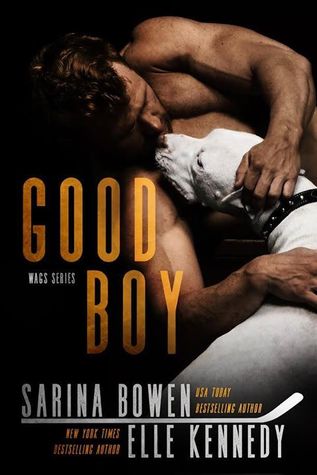 Good Boy

by Sarina Bowen, Elle Kennedy
on January 31, 2017
Buy on Amazon, Buy on B&N, Buy on iTunes, Buy on Kobo
Goodreads


Hosting her brother's wedding for an MVP guest list is the challenge of Jess Canning's life. Already the family screw-up, she can't afford to fail. And nobody (nobody!) can learn of the colossal mistake she made with the best man during a weak moment last spring. It was wrong, and there will not be a repeat. Absolutely not. Even if he is the sexiest thing on two legs.

Blake Riley sees the wedding as fate's gift to him. Jess is the maid of honor and he's the best man? Let the games begin. So what if he's facing a little (fine, a lot) of resistance? He just needs to convince the stubborn blonde that he's really a good boy with a bad rap. Luckily, every professional hockey player knows that you've got to make an effort if you want to score.

But Jess has more pressing issues to deal with than sexy-times with a giant man-child. Such as: Will the ceremony start on time, even though someone got grandma drunk? Does glitter ever belong at a wedding? And is it wrong to murder the best man?

Caution: May cause accidental aspiration of tea or coffee. Do not read in a public place where loud laughter is inappropriate. Contains hot but hilarious hockey players, puppy cuddling and a snarky pair of underwear.
Sooooooo this book will be the first on my Top Read 2017 list!
Good Boy is the start of the WAG's series by these authors, the book opens with the wedding or the planning of and then execution of the wedding of Jamie and Wes from HIM/US.
If you read HIM and US this is a must read. I know, I know there are readers who only read gay romance, please I implore you to read this book!
The emotions that pour off the pages as Jamie and Wes wed are worth the read but more than that you get to continue to live in their world as Jamie's sister Jess Canning plans their wedding and finds her life taking a different path. I so loved being a witness to this wedding!
Good Boy pairs Jess with Blake Riley who is Wes' NHL teammate; Jess' new brother-in-law.
I loved Blake's directness in US. I found him funny and though sometimes crass he proved in US he has a heart of gold. Blake's funny, witty, big mouth had this book filled with beyond epic banter that often had me laughing out loud. I loved how Blake and Jess often found each other in each other's orbit as they both  sought comfort in Jamie and Wes' home.
The use of Blake's family was perfect in this book. Blake's mom was so well crafted; loving with just the perfect touch of mother's intuition (nope not telling read the book).   As hockey mom, I have to say I freaking LOVED Blake's mom!!!!! Yes, she had mom's intuition which played well in the story but even more than that she cheers her boy on so loudly!
Speaking of intuition, the scenes the authors used to show Jess' future was the right choice for her was so well done, the final one with its tie into Blake's family will fill your heart with love. Jess bounced around from career to career so I loved how you can feel she finally found the right career path.
In Good Boy, Blake lives up the book title in spades proving and showing that heart of gold even more! A bit too much of a big heart with his ex but I won't spoil that for the reader, I will simply say the truth sets you free and in this case made for an epic scene!  Ok, ok I will also say I loved that this wasn't a cheating ex as there are other things that can ruin a relationship.
I also loved how the use of dogs in this book, it played wonderfully into the book cover and was used to show the depth of Blake's heart. This tied masterfully into the end of the book; an end that I do wish had an epilogue.
I should pause and say if you have not read HIM/US no worries this book is completely stand alone and makes a wonderful start to a new hockey series from authors who understand the sport.
I am excited Eriksson is next in the series STAY (WAG's 2)!