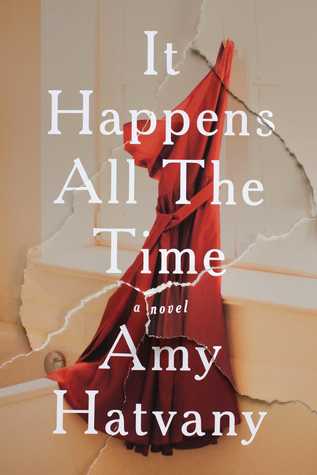 It Happens All the Time

by Amy Hatvany
on March 28, 2017
Pages: 320
Buy on Amazon, Buy on B&N, Buy on iTunes, Buy on Kobo
Goodreads


From master storyteller Amy Hatvany—whose writing has been hailed as "gripping and emotionally honest" (Stephanie Evanovich, New York Times betselling author)—comes a provocative and compelling novel about two friends whose lives are changed by a drunken kiss.

I want to rewind the clock, take back the night when the world shattered. I want to erase everything that went wrong.

Amber Bryant and Tyler Hicks have been best friends since they were teenagers—trusting and depending on each other through some of the darkest periods of their young lives. And while Amber has always felt that their relationship is strictly platonic, Tyler has long harbored the secret desire that they might one day become more than friends.

Returning home for the summer after her college graduation, Amber begins spending more time with Tyler than she has in years. Despite the fact that Amber is engaged to her college sweetheart, a flirtation begins to grow between them. One night, fueled by alcohol and concerns about whether she's getting married too young, Amber kisses Tyler.

What happens next will change them forever.

In alternating points of view, It Happens All the Time examines the complexity of sexual dynamics between men and women and offers an incisive exploration of gender roles, expectations, and the ever-timely issue of consent.
I enjoyed It Happens All the Time by Amy Hatvany, a new to me author. This book touches on something that is so relevant and relatable, something that happens all the time now, something that all parents should talk to their children about – both male and female. Something that you see in the news time and time again and it literally crushes me whenever I see it happen 🙁
It Happens All the Time explores the dynamic between a friendship gone wrong; a situation where there are two best friends, one feeling more for the other and when alcohol comes into play how what you do in that moment can change everything and everyone forever.
Amber and Tyler have been friends since they were teenagers. Both only children – Amber has the love of two parents who adore her and would do anything for her, and Tyler has a mother who is good to him but a father who has very sexist views when it comes to women.
It was interesting being in the POV of both characters in this book as it allows the reader to be inside their heads to see what they are thinking. Now I am not saying that their backgrounds had anything to do with the situation that happened but that maybe sometimes how you see the adults who are supposed to be role models to you may shape who you become as you grow into adulthood. It was also interesting because normally when we see these things in the news, we typically only hear the voice of the victim so I enjoyed being in the perpetrator's head and trying to understand him more even though I knew in my heart that nothing he could say would EVER make me side with him or really feel any emotion for him other than anger and betrayal.
Amber returns from college engaged and finds herself spending more time with her best friend Tyler while her fiancé is in Seattle working. And one drunken flirtatious night becomes something that neither of them expect nor is it something that they will ever fully recover from.
Amber understandably goes on a downward spiral while Tyler is still at odds whether or not he ever really did anything to Amber though he does remember bits and pieces of that night, he never really accepts the blame.
As we can see in society now, it is usually the victim who seems to take the blame rather than the one who committed the crime. Often times saying that a woman shouldn't dress or act a certain way because then they are "asking for" something more even if she tells him "no." I HATE this mentality and this way of thinking and the author really explores the after effects both psychologically and physically with both characters, how it affects their friendships and relationships and really puts things in perspective for the reader to be able to understand where both are coming from.
And while I appreciated this look into both of their mindsets, the reason for my 3 star rating is because I would have loved more emotion, more something from Tyler once he realizes what exactly he has done to his best friend, someone he said he loved. I would have also liked the resolution in the end to come about organically rather than it being forced or coerced out of the characters.
This is a great read and definitely something that I feel is so important for our children to know about and be educated about. I think the author with her experience as per the forward at the beginning of the book really touched upon something that will make readers think and feel and really relate to. It Happens All the Time is well written and something that I won't soon forget as I have young children to think about, young children who I want to educate about their safety and the safety of others and that NO ALWAYS MEANS NO.
I would definitely read more from this author.