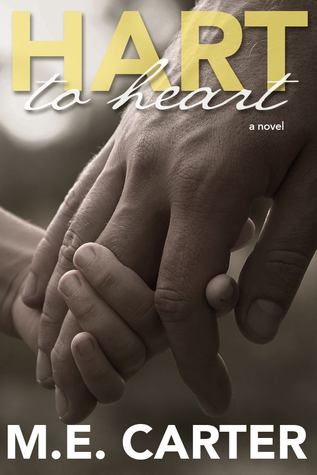 Hart to Heart

by M.E. Carter
on July 14, 2015
Pages: 194
Buy on Amazon
Goodreads


We're the Harts. Between an engagement, a wedding and an adoption, we've had the best year of our lives. Things have never looked better for any of us.

But just because you say "I do" doesn't mean you get a happily ever after. And sometimes, you get tackled more in life than you ever did on the football field.

The only way we're going to make it through is if we do it together…Hart to Heart.
First, if you have not read Change of Hart, stop reading this review and go #1click it now. Change of Heart is a wonderful book told in the male POV as the reader witnesses pro-football player, Jason Hart fall for single mom, Addison.
Hart to Heart opens with Addison and Jason's breathtaking wedding, one so perfect for them as it is set outside of the media's eye.
I want to pause and say this book is not a book that breaks a couple up just so the author can write a book two. This book takes a hard look at love through tough times.
This review will be short because I plan to give nothing away about the plot. I want to compel readers who love adults stories, books with no drama just for drama, books that will capture your soul to 1-click and read without telling you the story line.  I truly feel it will be more powerful to experience it as Ms. Carter wrote it.
Jason and Addison's newly married life is not what they envisioned when they said "I do" but marriage is about dealing with the crap thrown at you and Ms. Carter nailed it!!
Ms. Carter again nailed the male POV. I loved Jason and his range of emotions in this book had me falling even more in love with him.  There is a scene with him angry that was so powerful, my heart broke for this man who was powerless to help the situation that engulfed his life.
Throughout this story Jaxon, Addison's son now also Jason's son, was so well written. This young man touched my heart and there were so many engaging scenes with him.
Now the use of Matty……. that was outstanding. It layers so many emotions for so many in the story; witnessing resentment turn to agony turn to love was masterfully written. And the use of him was the perfect resolution.  It is not what you think and NO I will not tell you what happens. READ THIS 5 star book!
Omg I love the tie with the book title and how it was layered into the end of the story.
The end of this book was so perfect. It tied so many pieces together while staying true to the story line.
P.S. Bring tissues for this one as there are few times throughout the book that will touch your soul and tear you up!!!
♥ Read this Series ♥
Book 1 – Change of Heart
Book 2 – Hart to Heart