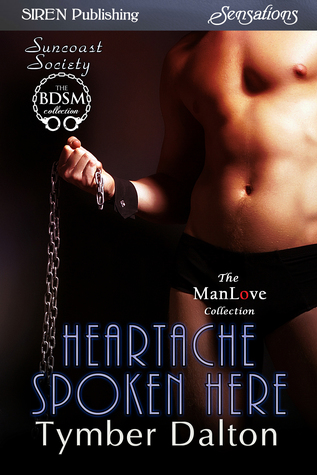 Heartache Spoken Here

by Tymber Dalton
on July 10, 2017
Pages: 188
Buy on Amazon, Buy on iTunes, Buy on Kobo
Goodreads


Stuart moves to Florida because he knows being out as gay and kinky won't be possible around his family in Iowa. It's a new start for him, and he's already made a kinky friend online. Now all he has to do is find the nerve to get out in real life.

Jeff has had nothing but bad luck in love lately. He's fluent in heartache and finally listens when friends tell him he needs to do something different.

Brandon faces a delicate balancing act between being the father of a brilliant teenaged daughter and trying to find a subby guy who will accept he's a package deal. He's not just alone, but lonely, and wants more than pick-up play at Venture.

When Stuart realizes he's been catfished, he's mortified. But is it a blessing in disguise? Can the three men find what they've all been looking for in each other, or will heartache continue to be their primary language?
First, this book is easily read as a stand alone as is the case with most of the books in this series. The characters in Heartache Spoken Here are members or becoming members of the same BDSM club.
I love that I can pick up a book in this series when the blurb grabs me. Heartache Spoken Here is a part of Ms. Dalton's new sub-series inside of this broader series labeled The Man Love Collection. Yes, you guessed right— these books are gay romance.
In the case of Heartache Spoken Here it is a m/m/m menage. Though I haven't read many in this menage area the few I have read I have loved! And this was the case with this one as well.
Stewart, Jeff, and Brandon are meant to be together. How these three meet is relevant and well thought out. Bearing witness to them slowly getting to know each other and all agreeing that the three of them belong together and would work was really well done.
Each man has his own path in life. The back story that brought each to the place where we as the reader meets them really allows insight into their mindset.
Yes, the sex when it comes is smoking hot and laced with emotion but this book is so much more than that. It is three men finding a happy—working to fit into each other lives.
Stewart, Jeff, and Brandon each compliment each other. The author did a fabulous job bonding each man to the other. I was left truly believing these three were meant to be together!
I also really enjoyed how their love didn't exist in a vacuum. Not only do they have to deal with some bigotry around being gay, but the author kept it real as these three have to deal with being openly loving as three.
There was one scene with Brandon's teenage daughter that was EPIC and highlighted at least for me why honest is the best path!
I hope you will give this one a try. Heartache Spoken Here was such an enjoyable and hot read!