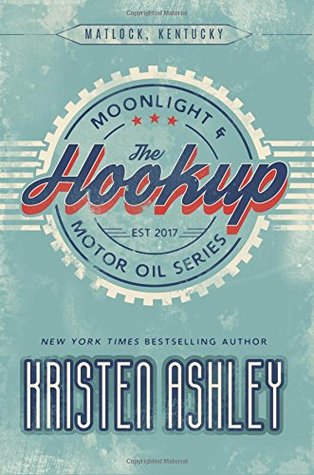 Th Hookup

by Kristen Ashley
on December 19, 2017
Pages: 358
Buy on Amazon, Buy on B&N, Buy on iTunes, Buy on Kobo
Goodreads


When the new girl in town, Eliza "Izzy" Forrester decides to hit the local drinking hole, she's not ready to meet the town's good, solid guy. She's definitely not prepared to engage in her very first hookup with him.

Then Izzy wakes up the next morning in Johnny Gamble's bed and good girl Izzy finds she likes being bad for Johnny.

Even so, Izzy feels Johnny holding her at arm's length. But Johnny makes it clear he wants more and Izzy already knows she wants as much of hot-in-bed, sweet-out-of-it Johnny Gamble.

Floating on air thinking this is going somewhere, Izzy quickly learns why Johnny holds distant.

He's in love with someone else. Someone who left him and did it leaving him broken. Whoever was up next would be runner up, second best. Knowing the stakes, Izzy will take what she can get from the gentleman that's Johnny Gamble. And even knowing his heart might never mend, Johnny can't seem to stay away from Izzy.

Until out of nowhere, his lost love comes back to town. He's not going back, but Johnny still knows the right thing to do is let Izzy go.

And Izzy knew the stakes, so she makes it easy and slips though his fingers.

But that's before Johnny realizes Eliza moved to town to escape danger that's been swirling around her.

And that's why Johnny decides to wade in.

That and the fact Eliza Forrester makes breakfast with a canary singing on her shoulder and fills out tight dresses in a way Johnny Gamble cannot get out of his head.
So I must admit that I NOW understand the love and intrigue of Kristen Ashley books. I had never read this author before and my first experience with her was reading The Deep End (which I did not love but so many did!). But this, THIS BOOK, a contemporary romance was more my thing and I loved the characters in The Hookup.
Reading the blurb may give you the sense that there is another woman in Johnny Gamble's life that he has not gotten over, but that wasn't it at all so please go into this with an open mind and heart. I understood Johnny's hesitation in getting into anything serious with our heroine Eliza "Izzy" Forrester because she is just pure heart of gold and deserves nothing but the same in return.
And he sees that… he acknowledges that… and it's in the end what makes him want more than just a hookup.
For Izzy, she has never done just a hookup before so seeing her trying to navigate the whole "I'm not serious, I just want fun sex too" was fun to watch but I understood her heart too and wanting more and feeling for the first time how desirable she is… how much a man could want her for being her.
I don't always love reading about an alpha kinda guy… but it worked for me here. I loved Johnny's words, I loved his commands, I absolutely loved his heart. The heat, the emotions, the protective nature between the two just worked so freakin' well. Johnny's heart never wavered and for that I loved him even more because Izzy deserved nothing but the BEST!
So I am definitely intrigued and I am looking forward to reading more in this series. While it's always hard to move backward and read more of an author's work because of my blogging schedule, I am most definitely excited moving forward and reading more of Kristen Ashley's contemporary romances. The Hookup is sexy and hot as hell and I can't wait for more!


"Izzy?" she answered.
"Hey, I'm home," I told her.
"Okay, well…how are you?"
How was I?
Johnny's behavior explained by the sad fact it was the anniversary of his father's death, but still explained, and he was coming over for dinner the next night, not to mention, after not being affectionate (at all, unless you counted sitting me on the countertop, which I kind of did) after the last time we'd had sex, he made out with me at the door of my car for a good, long, *happy* while—I was great.
"I'm great," I told her, opening Serengeti's stall and moving in, lifting a hand to pat her jaw while she moved her nose to snuffle my neck and blow at my hair.
"Damn," Deanna muttered.
My hand arrested on Serengeti and I focused on Deanna.
"What?" I asked.
"Damn," she repeated.
"Damn what?" I asked.
"Well, just to say Johnny Gamble is *Johnny Gamble*."
A specific area in my chest squeezed at the way she imparted that obvious but still confusing information.
"What's that mean?" I asked.
"He's Johnny Gamble of Gamble Garages. Did he tell you that?"
No he didn't tell me that.
And suddenly I was embarrassed about something that I hadn't liked all along.
But it was worse since Deanna knew more about a man I'd slept with than I did.
Serengeti was getting fidgety, so I used my hand on her to lead her out of her stall, and once in the corridor, she trotted out the open bay at the back, directly into her pasture.
I moved to Amaretto as I shared with Deanna, "No, he didn't tell me that. I mean, we talked but we were also doing other things." I let that lie. It did, weighty between us on the phone, before I went on, "I don't know what
that means."
Even though it seemed like I did. Something seemed familiar about that.
"You haven't lived here long enough," she murmured while I opened Amaretto's stall and moved in for some quick pats before I let him loose. Louder, Deanna said, "You know the gas station in town?"
Oh yes.
That was where I'd seen it.
"He owns that?"
"That and seven more of them across three counties. None in the city, just in the counties. Some of them are like mini-mart stores. All of them sell gas and do work on cars."
Wow.
That was impressive.