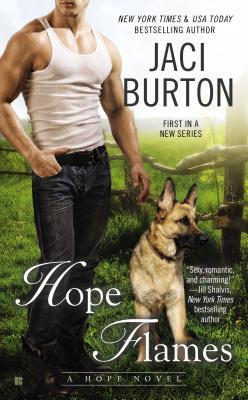 ---

Thirty-two and finally setting up her veterinary practice in the town she once called home, Emma Burnett is on her own and loving it. Independent and driven, she's not letting any man get in the way of her dreams. Not again.
That's fine with Luke McCormack. Divorced and hardly lacking in female company when he needs it, he's devoted to the only faithful companion in his life–his police dog. Still, there's something about Emma he can't shake.
When a series of local break-ins leaves Emma vulnerable, she seeks help from the first man to spark her desire in years. And now they're giving each other something they thought they'd lost forever…hope.
This was my first Jaci Burton book and I truly enjoyed it. Hope Flames, book 1 in a new series from Ms. Burton tells the story of Dr. Emma Bennett a woman returning home to open a veterinarian practice and local cop Luke McCormack.
The relationship these two developed was wonderful to watch unfold as a reader; though both were hesitant to put a name to things it is made clear to the reader that these two belong together; they work well in each others space; they have professional respect for each other and yes both share a love of the furry companions that are so present in this book!
Both characters come with a past that effects not only their interactions with each other but there ability to accept the feelings they are developing. Even though the characters may be resistant, the reader is able to see the depth and connection developing between these two.
Emma has a past that re-visits her and let me just say not only did I like the suspense aspect of the book but Officer McCormack is likely someone you would like to protect you.
I adored both Emma and Luke's families; though they have different pasts the scene at both families dinner tables offers the reader wonderful insight into the characters as well as the characters into each other.
Hope Flames was a great introduction to a new series I plan to continue to read! I truly felt like Ms. Burton transported me to the town of Hope and brought me a cast of characters I so want to know more about.
I am very much look forward to Logan, Luke's older brother in Hope Ignites (Hope #2). And I am anxious to see what how the story unfolds for Molly, Emma's younger sister in Hope Burns (Hope #3).
If you like family sagas I recommend to pick up book 1 today!

Jaci Burton is a New York Times and USA Today bestselling, award-winning author of over 50 books. She lives in Oklahoma and when she isn't on deadline (which is often), she can usually be found wrestling with her uncooperative garden, wrangling her dogs, watching an unhealthy amount of television, or completely losing track of time reading a great book. She's a total romantic and longs for the happily ever after in every story, which you'll find in all her books.