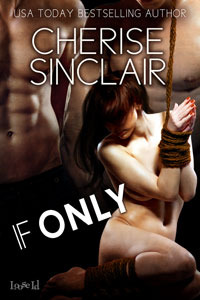 ---
4 STARS!!!
Synopsis
After the last fiasco, Sally gives up. She'll never find a Dom of her own. Instead the computer whizz is job hunting in between bending the law—just a bit—to unearth the bastards who'd enslaved her friends. The clueless cops and Feds obviously need help.
FBI special agents, Galen and Vance, have waited to play with Sally for a long time. When the mischievous submissive returns to the exclusive Shadowlands BDSM club after an ugly relationship, the experienced co-tops are pleased. Realizing she's suppressing her emotions, the powerful Doms push her—only to find that her sassiness conceals a scarred and vulnerable heart.
Shaken by the unexpected emotional exposure, Sally flees the demanding Masters and the Shadowlands.
Both Galen and Vance have reasons not to seek a long-term submissive, but when a brutal attack by her ex-Dom sends Sally into their home, the two agents are driven to protect her. To help her. To take her under command. Falling in love isn't in the plans.
But as the little imp brings light into their lives, they begin to want more…until they discover she's hacked into an organization that delights in burning people alive.
Denise's Review
I truly enjoyed Sally's story; this woman who is seen throughout the series is given a storyline, a background and a happy that so suits the character crafted in the prior books.
Sally is a sub who has been unable to find just the right Dom; well Ms. Sinclair proves in spades that because Sally needs two, yes you heard me right TWO alpha Doms' in this case, FBI special agents Galen and Vance. I suspect if you have read the prior series you are fine with sex, lots of sex, various sex, if you are not please be warned this is a ménage read with graphic sexual content.
Galen and Vance, who if you are like me, likely caught your attention in the prior books are really well developed in this book; each get a backstory and rich history that really allows the reader to understand them. The reader is also given insight into their unique "partnership."  A partnership that works for them and in the end offers Sally everything she needs.
The use of both Galen and Vance's careers and Sally's education is something I really enjoyed, it not only brought the relationship beyond play and the club but it afforded the reader the ability to see the whole relationship not just the bedroom time.  I really enjoy books with adults, and this book delivered that in spades.
Speaking of adults, I loved the use of Kari and Master Dan, their struggle post baby is something I think many readers can relate to (even if it does not include BDSM).  And Beth and Master Nolan pulled at my heart, they were used to show that relationships are all different and life throws you curveballs but love is about handling them together.
The truth is the whole cast from the Shadowlands was used to show how love and support does not have to come from blood; it comes from people who want to know you and appreciate you and who see you as the person you are.
Sally's backstory was heartbreaking; but its use brings to light who Sally is, it moves the story forward and in a big way shows that Valen and Galen would do anything for Sally.  These men work hard to understand who Sally is and how they can help her, how they can love.
The end of this book was something I truly enjoyed; the end of this book was done with care and communication; happy with three is not easy nor is happy with such risky professions, I so loved the dialogue these three shared and it truly left my heart full and a smile on my face.
Thank you, Ms Sinclair for the wonderful story. I am so looking forward to more wonderful reads in this series.
About the Author
Having to wear glasses in elementary school can scar a person for life. Dubbed a nerd at an early age, Cherise Sinclair has been trying to live up to the stereotype ever since. And what better way than being an author?
Known for writing deeply emotional stories, the USA Today Bestselling Author has penned sixteen erotic romance novels, most with a BDSM theme. (Please do not mention the phrase mommy porn in her presence.) Her awards range from a National Leather Award to a Romantic Times Reviewer's Choice nomination to a GoodReads BDSM group award for best author of the year. Called an "ascendant erotica queen" by Rolling Stone Magazine, Cherise spends her days writing, supervised by a sadistic calico cat.
Book 1 – Club Shadowlands

Book 2 – Dark Citadel

Book 3 – Breaking Free

Book 4 – Lean on Me

Book 5 – Make Me, Sir

Book 6 – To Command and Collar

Book 7 – This is Who I Am