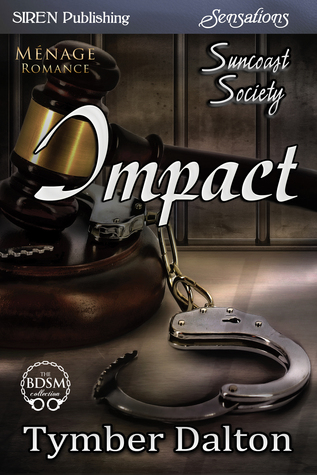 Impact

by Tymber Dalton
on October 26, 2015
Buy on Amazon
Goodreads


Tilly, Landry, and Cris all thought their lives had settled down and they could relax. Great careers and emotional healing lead Tilly to believe they have a charmed life. In her heart, however, she still mourns the fact that she can never have children. But secure with the love of Landry and Cris, and knowing they have a peaceful future ahead, helps her heal.

Then Tilly gets a call from Sofia, Cris' younger cousin. The desperate new mother needs their help to escape a dangerous situation, and Tilly cannot turn her back on Sofia…or her newborn infant.

Unfortunately, the tragic impacts quickly escalate as Sofia's troubles worsen and Tilly, Landry, and Cris find themselves guardians of a newborn. Can they fight relatives and old demons to regain their peace of mind and preserve their new family, or will Tilly's heart once again be crushed by forces beyond her control?

* Suncoast Society #32, MMF, BDSM
The Suncoast Society series is for the most part a series of stand alone books where the characters take the reader on a journey with the members of the same BDSM club.
This book is an exception to that description. If you love m/m/f menage or BDSM books and you have not read Cardinal's Rule, stop reading this review and #1click now http://amzn.to/1NLY9KK.
The story of how Cris, Tilly and Landry become a threesome is needed to fully grasp the beauty of
Impact
.
I loved Impact; this is a continuation of the happy Cris, Tilly and Landry find in Cardinal's Rule and provides the reader with backstory into Cris, a backstory that so pulled at my soul and that will have the opening of the book pulling you right into this one!
The blurb reveals that Tilly gets a call from Sofia, Cris' younger cousin, a desperate new mother who needs their help to escape a dangerous situation. This book gets real……and Tilly cannot turn her back on Sofia…or her newborn infant.
I truly don't want to give away what this leads to or how this plays out….. but I will say…I adored how this all played out. Ms. Dalton stayed true to the characters crafted while also opening them up, allowing them to develop and mature both with age, circumstance, and the unconditional love that comes from their relationship.
Though Tilly, Cris, and Landry share an unconventional relationship, you will never question their love and commitment. I adored some of the twists here, especially the judge! (nope not telling).
The new happy Tilly, Cris and Landry find is one filled with even more love.  I love these three even more now!