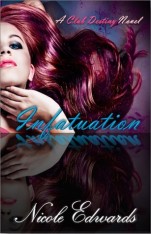 4.5 STARS!!!
Summary
At what point does infatuation turn into obsession? McKenna Thorne doesn't have the answer to that question, but she's dangerously close to finding out. When it comes to Tag, she learns that her body knows no limits. But neither does her heart.
He's content with the nontraditional aspect to his relationships and he always has been. Until McKenna unexpectedly walks into his life. Now Tag Murphy has only one goal: to see how fast he can make her pulse race.
Denise's Review
Please do not read this book until you have read Conviction, Temptation, Addiction and Seduction – the prior books in the Club Destiny Series.
Infatuation tells the story of Tag Murphy, a man introduced and showen intimately in early books. In this book, we learn about the man behind the killer body and professional lawyer persona.
Infatuation picks up where part of the story line from Temptation leaves off, with Tag as legal representation for the law suit related Club Destiny legal issues.   As you may remember, the lawsuit related privacy issue was caused by a member speaking to the press and Luke and Logan McCoy's desire to keep their club private.
This case brings Tag face to face with McKenna Thorne, a journalist covering the case.  Tag has always been content with the nontraditional aspect of his prior relationships, something again you see in prior books.
The connection between Tag and McKenna was tangible. You feel it instantly and the more they interact the more Ms. Edwards builds this connection.
Though this book focuses on the developing relationship between Tag and McKenna, it continues to move the Club Destiny timeline forward; I truly appreciated how well this was handled.
It really worked for the story, given that Tag is the Club's attorney, it made for a layered and engaging read.
I truly loved seeing Luke, Cole and Sierra.  Their relationship continues to evolve and you see glimpses of vulnerability, questions of how things would work.  I thought this was also so well done, their love and continued committed to each other were always present. It was lovely and felt real given the nature of their relationship!
There was also some crossover with Ms. Edwards Alluring Indulgence series, this was well done and will make you want to read more Nicole Edwards.
The evolution of Tag as he comes to terms with his emotions will endear him to your heart.
This book has a nice amount of action, yes the hot kind but also the story action that make it a world that will stick you and keep you wanting more.
The epilogue was so well done, it added another piece that warmed my heart and a piece that made me say, "when is book 5 in Club Destiny being released!?!"
We were given an ARC copy of this book in exchange for an honest review.
About the Author
Nicole lives in Central Texas with her husband, kids and her two dogs. Although she has been writing since a very young age, she has recently ventured into the full time world of writing and is loving every second of it.
She is the author of the Club Destiny series and working on more projects at this time.