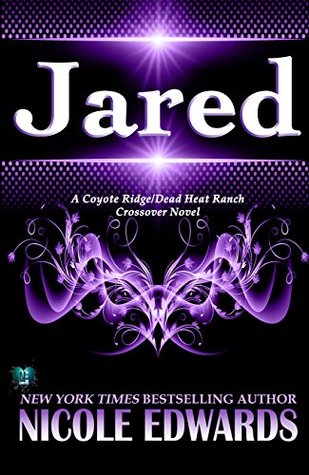 Jared

by Nicole Edwards
on September 20, 2016
Buy on Amazon, Buy on B&N, Buy on iTunes, Buy on Kobo
Goodreads


Jared Walker is a single dad who knows what it's like to be burned by a woman. His ex-wife tormented him in a way that's unforgivable. It makes sense that Jared doesn't trust women. He's not looking for love, but when his cousin Travis puts Jared in charge of the Walker family reunion, Jared just might find himself in over his head. In more ways than one.

Hope Lambert has one goal in life. To keep Dead Heat Ranch prospering. From sun up to sun down, she has a single-minded focus working alongside her four sisters, the job isn't always easy, but it's definitely worth it. Hope is convinced she needs nothing more than what's right in front of her. Until he walks into the stable.

It's easy to think you know what's best for you. That is until your heart is put to the test. What happens when the cautious cowgirl and the sexy single dad come face to face? The chemistry threatens to scorch them both. Giving in is easy.

Not falling in love is the hard part.

This novel is a Coyote Ridge/Dead Heat Ranch crossover. It can be read as a standalone.
Nicole Edwards writing and a single Dad book need I say more.. well yes, yes I do!
I adored this book; it was funny, witty, engaging and filled with so much outstanding dialogue.
Ms. Edwards continues to have me loving the Walker family from her Alluring Indulgence series while adding to the list of characters I now hold close to my heart.
Jared Walker is a 1st cousin to the Walker men and many readers fell in love with him in the prior series. This story brought this single dad an amazing happy while showing the even larger Walker family. How you might add????
A family reunion.It is this reunion that introduces Jared to the woman who will complete Jared and his son Derrick's life.  Hope Lambert (who is from Ms. Edwards Dead Heat Ranch series) is a strong woman who finds something in Jared she has never had before.  Pause here. If you have not read anything prior from Ms. Edwards no worries this book can be read completely as a stand alone; the original Walker man will simply be 7 married cousins and Hope's story is explained so you understand her place on the ranch and her family.
Ok back to the story; Derrick, Jared's young son stole my heart! This boy has been through so much but witnessing him being so loved by his dad and his extended family spoke volumes to who this boy will become some day.  It truly takes a village and the Walker family knows that in spades. Speaking of family…Ms. Edwards manages to give each man their own personality and unique interaction with the other. Oh and while I am on interactions, I loved LOVED the use of Travis… and OMG I am babbling……:)
I should stop and just say if you love single Dad books, pick this one up even if you have never read this author before!
I am so excited for more from the Coyote Ridge series as there were so many engaging characters I am excited to know more about. Ok and yes I want to continue to see the original Walker men and their families living their happy!
P.S. Jared's family, particularly the twins, left me with a smile from ear to ear. Yes in classic Nicole Edwards fashion the twins love to share a woman (can't wait for some sexy menage).