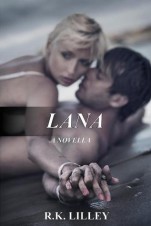 4 STARS!!!
Summary
Lana can't remember a time when she wasn't hopelessly in love with Akira. Even knowing that he viewed her as a kid sister had never helped to dampen her feelings. One night together only made it worse. After seducing Akira, it became apparent that their love affair was hopelessly one-sided, and heartbroken, Lana fled her beloved island paradise.
Eight years later, Lana finally returns home, planning to stay briefly, and only for business, but her plans go quickly awry when she runs into the man she could never get over.
At just under 34,000 words, this story is a novella.
This book is intended for ages 18+
Denise's Review
Please read the first three books, In Flight, Mile High and Grounded prior to reading this book, as Lana is a companion novel to Ms. Lilley's Up in the Air Series.
In the first three books, we meet Lana.  She is one of James best friends, yes James the alpha male has a platonic best friend. One who readers come to adore, as she is strong, witty and Lana is clearly pining for Akira, a man from her past.
From the moment I learned I was getting an ARC of Lana, I could not wait to get to dive in. Lana, this strong woman, had my attention in the first book and Ms. Lilley did not disappoint.
In this short novella, Lana and Akira are brought back together after 8 years, with a little help from James and Bianca.
I truly enjoyed experiencing what kept Lana from Akira.  Meeting him, experiencing why Lana felt she could never have him pulled me right into the story.
As Lana lands in Hawaii, readers get to learn the backstory and to fall in love with the island itself.
Akira is the man Lana thought she could never have, 8 years ago when she was only 18 years old.  She walked or rather flew off the Island thinking Akira did not love her the way she loved him.
The connection between these two is tangible, adorable and so well done.  Both of the characters' families are used to highlight how many times outside factors do affect a relationship.
This is a story of second chances but also one that makes you think that sometimes things happen for a reason.
Lana, at 26 is much different than the young girl who left the island and Akira now a man knows what he wants and is willing to fight for it.
The end of this book brought a smile to my face and made me so happy that Ms. Lilley added this short novella to the series.
The final chapter for me was a nice treat…as readers get a glimpse at Tristen and Danika.
Tristen, as we saw in the prior books, is one fine specimen of a man but in this piece you see why he is truly Yummy!
No, I am not telling you, you have to read it to find out.
About the Author
R.K. Lilley has been a writer since she can remember, but has held down some interesting jobs to pay the bills. For several years she was a first class flight attendant, and she always swore that she just had to write a book about it. Mixing her love of romance and all things BDSM, the Up In the Air Trilogy is her debut into the world of contempary romance and erotica. She is currently working on the final installment in the series.