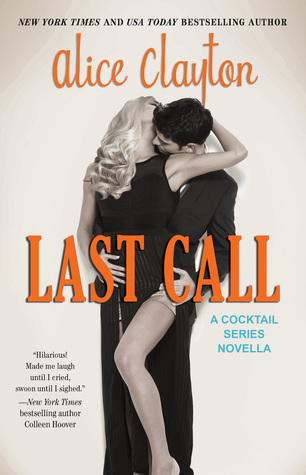 Last Call

by Alice Clayton
on January 6, 2015
Pages: 176
Buy on Amazon
Goodreads


From NEW YORK TIMES & USA TODAY bestselling author Alice Clayton, known for her "deliciously addictive" (The Book Vixen) novels, this Cocktail series novella reunites readers with Caroline and Simon from the wildly successful Wallbanger.

Simon and Caroline are back for another round of baking, banging, and big life changes. Settling in, but never settling down, Caroline has finally struck a balance between the professional and the personal. As one of the top interior designers in San Francisco, she travels all over Northern California between nook time with Simon.

Perpetual globetrotter Simon has cut his frequent flyer miles in half over the last year, preferring to balance his professional and personal life, as well.

The next step in their lives seems preordained—toasts, veils, and the aisle of rose petals. But when an accident on a photo shoot in Southeast Asia brings Caroline the most terrifying phone call she could ever imagine, she has to ask whether "till death do us part" is a more realistic prospect than faces most couples.

It's been a grand adventure, and Caroline and Simon wouldn't go out without the best surprise ending ever. One part sexy, one part laughter, a dash of exotic locales, and one pink nightie, mixed with passion, and you've got Last Call. Served with a side of Clive.
This short story warmed my heart, had me grinning from ear to ear and laughing out loud once or twice.
Last Call, the final book in the Cocktail series, brings the reader back to where it all started with Simon "Wallbanger" Parker and Caroline "Nightie Girl" Reynolds.
Opening this book was like visiting with old friends; Ms. Clayton did a wonderful job at weaving in the whole cast from this wonderful series into this novella.
There was a scene with Neil and Simon and a female making a lot of noise that had me laughing out loud (despite how this series started in Wallbanger this is not what you think.)
Experiencing this cast in love, each couple finding the happy that worked for them made my heart happy!
This book started and ended with a great reminder of what love and marriage are really all about; the two people committing to a life together.
I must also say the epilogue in typical Clive fashion – the cat favor was epic!! And though I know it is supposed to be the end of the series, I think a bit of me hopes some day we get a short that allows the reader to experience that scene coming to life 🙂
♥READ THE SERIES♥
Book 1 – Wallbanger
Book 2 – Rusty Nailed
Book 3 – Screwdrivered
Book 4 – Mai Tai'd Up
Book 4.5 – Last Call