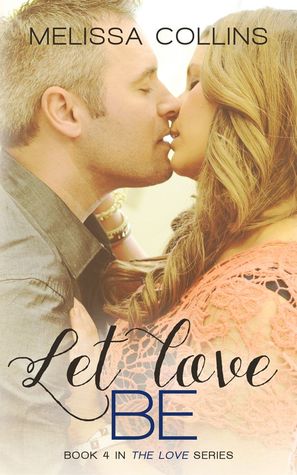 Let Love Be

by Melissa Collins
on March 18, 2014
Buy on Amazon
Goodreads


What would bring you happiness in a world that was suddenly empty?

For Lucy Crane, the answer is simple: her daughter. When her husband is killed in a tragic accident, Lucy loses her desire to live, but only one thing keeps her going – her unborn daughter. Focusing on being a mother helps Lucy cope with her loss, but kids grow up and they leave home, eventually. Eighteen years after losing her first and only love, Lucy is faced with the opportunity to find the happiness for which she's always longed. Her own fears become her worst enemies as she learns how to embrace love once again.

Evan Donovan is also facing his own struggles. Forced to retire from the FDNY because of lung damage caused by 9/11, Evan moves to upstate New York where he hopes to find a little peace and quiet. Old habits die hard, and Evan's hero complex and survivor's guilt constantly remind him of how difficult it is to be vulnerable. But for the first time in his life, he's tired of being alone.

Drawing strength from one another, Lucy and Evan discover how beautiful it is to let love be a part of their lives.
Let Love Be can easily be read as a stand alone, this book is written in three parts and is an emotional roller coaster with a range of emotions that shows what a wonderful artist Ms. Collins is.
Part 1 ughhh, part one ripped my heart out for both of these people. Evan and Lucy both faced heartache and tragedy in their lives and be warned, I suggest tissues when reading. No, I am not going to tell you what you read or why your heart will break but it will give you great perspective into both characters as you witness their pasts up close and personal.
Part 2 opens with a smile and an adorable introduction for Evan and Lucy. When they meet, they don't live in the same town but I love how this chance encounter stayed with both of them.
These two getting to know each other was so well done, and watching Evan decide to do the small simple things for Lucy, to find a way to make her smile truly endeared him to my heart. Though the reader sees pain in part 1 there is more heartache, I also truly enjoyed the use of 9/11. Evan is FDNY and his experience and how he was touched by the events of that day pulled at my soul.
Evan's "Princess work" (again not telling…you need to read the book!) and the cooking scenes were all so well done, they truly allow the reader to feel the love and connection growing between these two.
Evan and Lucy are mature adults and seeing them find love renewed my faith in love!
Part 3 Home; yes these two find a home together but not without some challenges; again you need to read this to experience it first hand; but the tie backs to the past; the desire to want to be together; I close this one knowing Lucy and Evans are together forever!
Please note I read this book stand alone and adored it!!
♥READ THE BOOKS ♥