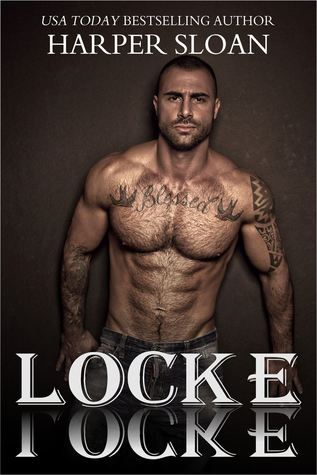 Locke

by Harper Sloan
on September 29, 2014
Pages: 239
Buy on Amazon
Goodreads


Darkness is the only thing I see. Ever since the day my life changed. The day that everything and everyone I held close to me ceased to exist. The day I lost it all and the demons of my past consumed my every waking moment.

I tried to keep others at arm's length. Tried not to let my darkness taint them. Ruin them. Harm them. And whether I want to admit it or not, as much as I wish I could keep them locked out, they refuse to leave. Refuse to let me suffer alone.

If I hadn't been so focused on keeping those demons from flying free, I wouldn't have missed how one perfect angel was able to sneak her way under my skin—refusing to let go. Making me want things I don't deserve.

She consumes me. Her beauty knows no end. The love she promises tempts me every time she's near. But that pure heart that makes her MY Emmy is the one thing I'm convinced I'll destroy if I ever let her close.

I'm a broken man. A broken man with too much darkness in his soul to ever let her light shine upon me. But even that doesn't stop me from craving her with every single breath in my body.
This book is truly best appreciated if you read the Corps Security series in order; you will fall in love with these men and will end up where most of us are now, so wanting to know Maddox Locke's story!
I personally have wanted to know more about Maddox since book 1 and my desire to understand this man only grew with each book so jumping into Locke, I was so excited to dive right in.
Ms. Sloan really did the highly anticipated Maddox justice and then some.
This book opens with pain and heartache for both Em and Maddox; pain that allows the reader to see the why for so many actions in the past.
The author had me loving these characters even more than I did before and she truly crafted some of the most evil characters out there. I truly hate Maddox's Mom and Mercedes and the Shane bouncer ughh despise him and Emmy's family.
As suspected Maddox has a lot of pain in his past to deal with, pain deeper than the reader expected but pain that truly helps you understand him. I love that the author used Emmy and professional help with tangible acts to help Maddox move forward.
And I truly loved how Mad was still uncomfortable sometimes because some of what he deals with is life long. P.S. Cohen's transformers line about this was awesome!!!
In the end, the happy Em and Maddox find warmed my soul!
The ink Maddox has on his body speaks volumes to his healing, new outlook on life and desire to move forward! (and I loved that Maddox was true to the cover on this book – I know it sounds silly but I love when that happens)
I am very much looking forward to the spin-off series about the children of these men, book 1 Unexpected Fate about Cohen, Greg and Melissa Cage's son is on top of my I want to read now list!

♥READ THE SERIES♥
Book 1 – AXEL
Book 2 – CAGE
Book 3 – BECK
Book 3.5 – UNCAGED
Book 4 – Cooper
Book 5 – Locke