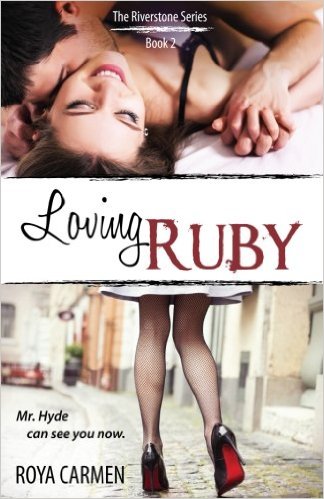 Loving Ruby

by Roya Carmen
on January 2017
Buy on Amazon
Goodreads


A sinful boss secretary romance.

I've heard all the rumours: He killed his wife. He's on house arrest. He's a vampire. Yet still, when I get a job offer from the reclusive Mr. Hyde, I jump at the chance. Yes, I know I'm crazy.

I'm cautious at first, but then I discover a beautiful, quirky man. I also see a tortured soul who lives in darkness. I know I should run, yet I can't tear myself away. I want to discover all his secrets. I desperately want to help him. And when he draws me deeper into his strange little world, I want to stay.

Author's Note: Loving Ruby contains explicit sexual scenes and some coarse language. It is Book 2 of The Riverstone series but can be enjoyed as a standalone. If one wants to read the entire series, it is best to read them in chronological order to avoid spoilers.
I really enjoyed this office romance of sorts… so it isn't set in a traditional office setting but it is a boss and his assistant story.
The way Ruby found her way to the recluse across the street was well played out.. the way Ruby got him to open up was masterful… you see there is an instant attraction… an attraction that leads to blurry lines. But when an artificial line is drawn, one that claims emotions can be involved, well that that is when I started to really love Ruby!
Ruby's creative tactics endeared me to her, no you can't fix someone else but you can help move them along, coax them in the right direction. I really don't want to say more here; the blurb is a bit vague and I had so much fun experiencing this one unfold. I want to preserve that enjoyment for other readers.
I loved August… but truth be told I loved Eric and his wounded soul even more… nope not telling read the book, no it isn't a menage and not a love triangle; it works… trust me!
I read this book stand alone and had no issues following it so if the blurb or this review intrigues you 1click away!
The happy Ruby finds is so very perfect for her; loving one person doesn't mean not loving those who came first. It means accepting who that person is now and the experience that crafted who they are.
Ruby's dreams come true in this one in more ways than one; well really to come extent Ruby gets more than she could have ever dreamed of.. you will need to read the book to understand that fully!