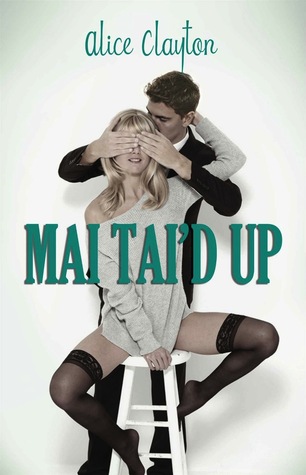 Mai Tai'd Up

by Alice Clayton
on December 2, 2014
Pages: 320
Buy on Amazon
Goodreads


Looking for the perfect mix of smart, sexy, and sassy? Mai Tai'd Up continues New York Times bestselling author Alice Clayton's Cocktail series, which began with Wallbanger and continued with Rusty Nailed and Screwdrivered.

The gossip mill in the seaside community of Monterey is churning about Chloe Patterson, the newcomer who is starting a sanctuary for rescued pit bulls. It's rumored that she's a former beauty queen (true) who ditched her fiancé the morning of their wedding (also true). And that while she's not looking for a new man, the good-looking local veterinarian has his eye on her. Absolutely, positively true.

When Lucas Campbell isn't at the family veterinary clinic, he's paddle boarding in Monterey Bay. Recently single, he's definitely not in the market for a new relationship, but he still can't resist taking a second, third, and fourth look at the recent arrival of Miss Golden State.

Neither Lucas nor Chloe has any interest in being tied down. Being tied up, however—now there's a thought. But are a few Mai Tais, a moonlit night, and the music of Frank Sinatra enough to allow them both to forget their past? Let's hope Ol' Blue Eyes knows what he's doing.

Mix one part tiki, one part kinky, and a splash of old black magic matchmaking, and it's time to be . . . Mai Tai'd Up.
Mai Tai'd Up is the story of Chloe Patterson and Lucas Campbell.  As the reader meets Chloe, she is just grabbing a hold and taking control of her life. I don't want to tell you the what or the how because I think experiencing her breaking free is very powerful.
As Chloe finds her path in life, it puts her square in the space of the local town veterinarian Dr. Luca Campbell who is oh my, a man I think the reader will fall in love with from the start.
This book was more than just a story of two people falling in love right in front of the readers eyes, it was the story of a young woman finding herself.
Watching Chloe have passion for the program she starts, experiencing Chloe's building friendship and her flirtatious ways with Lucas and finally hearing Chloe have a voice made for a wonderful journey.
I should say there are a few references to prior characters in this series and though it was wonderful to see Clark and Viv from  Screwdrivered (Cocktail #3) you do not need to read any books in the series to enjoy this one.
But I do want to say I did love book 1, Wallbanger, so if you have not read it I do recommend a 1-click.
Back to the story, the friendship and ease Chloe and Lucas develop create a strong foundation, one that the reader is able to feel. When these two finally connect, it is hot and layered with emotions due to the established connection.
I was very much rooting for Chloe and Lucas to find their forever with each other.
The reader knows something about Chloe's past that Lucas does not…. you can see the train wreck coming and when it does, it did not make it any less powerful.  Lucas and Chloe both come with a past and reconciling how those paths are more different than the same become the challenge.
The end of this book was so well done; the I love you moment had true classic Alice Clayton wit and humor. I closed my kindle with a huge email on my face.
♥READ THE SERIES♥
Book 1 – Wallbanger
Book 2 – Rusty Nailed
Book 3 – Screwdrivered
Book 4 – Mai Tai'd Up