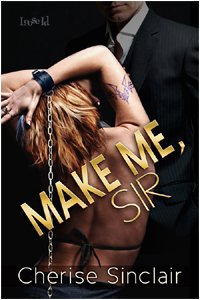 ---
4 STARS!!!
Synopsis
Her job is to make his life miserable. His job is to make her submit. Whose heart will surrender first?
Across the country, rebellious BDSM submissives are being systematically kidnapped, one from each club. When her friend falls prey to the slavers, FBI victim specialist Gabrielle volunteers to be bait in a club not yet hit: the Shadowlands.
She finds that being a bratty sub comes naturally, especially when she gets to twit the appallingly conservative Master of the trainees. But she soon discovers he's not as stuffy as she'd thought. Or as mean. She'd expected punishment, even humiliation, but she sure never expected to fall in love with a damned lawyer.
Courtesy of a prima donna ex-wife, Marcus loathes disobedient submissives. When the club owner insists he admit an incredibly bratty trainee, he's furious. But as he comes to know Gabrielle and sees the alluring sweetness beneath the sass, he starts to fall for her.
Unfortunately, Marcus isn't the only one who believes the feisty redhead is a prize worth capturing. And in the world of the slaver, such treasure is worth a hefty fee.
Publisher's Note: This book contains explicit sexual content, graphic language, and situations that some readers may find objectionable: Anal play/intercourse, strong BDSM theme and elements, violence.
Denise's Review
Make Me, Sir tells the tale of FBI victim specialist Gabrielle, a woman who enters the Shadowlands sub trainee program under false pretense as she is there to help catch a kidnapper.
This book for me took the series to a whole new level, beyond the club, beyond a couple falling in love and into the world of slave trafficking.
Master Marcus at the end of book 4, after Master Cullen takes Andrea as his full time sub, takes over the Shadowlands training program.
As the reader quickly learns Gabi has to fight her internal desire to please Master Marcus due to her mission to be bratty sub, one she hopes the kidnappers will target for abduction.
Wow, Master Marcus is a man who can rock a custom suit! I so love a well dressed man with a commanding voice.
Master Marcus, though not quite as mind reading as Master Z, senses this new sub is hiding something.  Master Marcus sees Gabi's desire to please him and is attracted to what he sees as a mystery and contradiction.
The introduction of this added element of suspense and drama also brought with it two men I so hope to know more about in upcoming books, Vance and Galen, two FBI agents, who show us in small ways and with dialogue that they truly understand dom/sub relationships are about respecting women and making them feel cherished, that wanting to please your dom is rewarded with praise and compassion.
Make Me, Sir wove together beautiful a continuation of the stories for Master Dan (book 2) , Master Nolan (book 3) and Master Z (book 1).
I thoroughly enjoyed seeing these characters again and watching their lives continuing to develop. Master Z and Jessica from book 1 (which was short) were used masterfully in this book, to both build to the storyline, to add to the tension, to help with the resolution and in the end it bring readers of this series as wonderful perspective on Zachary and Jessica.
I also enjoyed how this book explained a bit more about the club; the difference between a Dom and Shadowlands "Master."
Though Gabi slowly opens and shares some of her past with Master Marcus in scenes that are powerful for the reader and will at times have your heart breaking for her, Master Marcus can no longer take knowing Gabi is still hiding something from him.  The scene where Master Marcus get the "truth" out of Gabi was hot and emotional … leaving an aftermath that will you have you wondering – can this be repaired….
Well I will not tell you that part… I will say if you enjoyed the prior books in this series you will likely love this one!!
And if you like your books hot and have yet to read this series, wait no longer!
I am very excited to jump into To Command and Collar (Masters of the Shadowlands #6), bring on Master Raul.
About the Author
Having to wear glasses in elementary school can scar a person for life. Dubbed a nerd at an early age, Cherise Sinclair has been trying to live up to the stereotype ever since. And what better way than being an author?
Known for writing deeply emotional stories, the USA Today Bestselling Author has penned sixteen erotic romance novels, most with a BDSM theme. (Please do not mention the phrase mommy porn in her presence.) Her awards range from a National Leather Award to a Romantic Times Reviewer's Choice nomination to a GoodReads BDSM group award for best author of the year. Called an "ascendant erotica queen" by Rolling Stone Magazine, Cherise spends her days writing, supervised by a sadistic calico cat.
Book 1 – Club Shadowlands

Book 2 – Dark Citadel

Book 3 – Breaking Free

Book 4 – Lean on Me