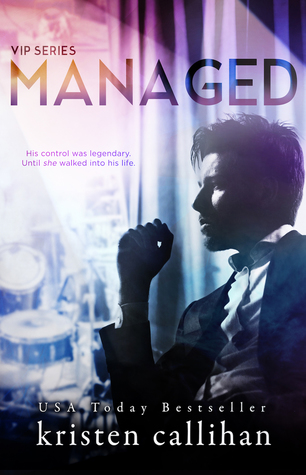 Managed

by Kristen Callihan
on November 14, 2016
Buy on Amazon, Buy on B&N, Buy on iTunes, Buy on Kobo
Goodreads


It started off as a battle of wits. Me: the ordinary girl with a big mouth against Him: the sexy bastard with a big...ego.

I thought I'd hit the jackpot when I was upgraded to first class on my flight to London.

That is until HE sat next to me. Gabriel Scott: handsome as sin, cold as ice. Nothing and no one gets to him. Ever. He's a legend in his own right, the manager of the biggest rock band in the world, and an arrogant ass who looks down his nose at me.

I thought I'd give him hell for one, long flight. I didn't expect to like him. I didn't expect to want him. But the biggest surprise? He wants me too. Only in a way I didn't see coming.

If I accept his proposal, I leave myself open to falling for the one man I can't manage. But I'm tempted to say yes. Because the real man beneath those perfect suits and that cool façade just might be the best thing that's ever happened to me. And I just might be the only one who can melt the ice around his heart.

Let the battle begin…
I couldn't wait to read Scottie's story in Managed. So closed off, cold and indifferent – strictly business and the band his number one priority. I couldn't wait to see the woman that would change his ways!
I will be honest and admit that I did not love book 1 (Idol) so I was torn in the beginning whether or not to accept an ARC of Managed. Well I have to say that this book blew me out of the water because the way that it was written, the bantering (OMG EPIC!) – this is a "you will smile the entire time and laugh out loud", "never forget these characters" kind of book. Kristen Callihan gives readers great characters, unforgettable dialogue, and palpable chemistry – all things that will make readers fall in love with this book!
Sophie Darling is just the person to cure this man of his aloofness, to mend his heart, to open up his mind to allow love in. Sophie is the complete opposite of Scottie (or as she calls him Gabriel). She is sweet and sassy and she makes him smile (which is a hard feat when it comes to this man bec EVERYONE is scared of him!)
Readers will see another side of Gabriel (aka Scottie) once he meets Sophie. This woman literally drove him absolutely bonkers but in the best way LOL. Gabriel acts like a tyrant when it comes to the band and business. He is super protective of Kill John because they are in essence his family. The thing is that he keeps them at arms distance because he is guarding his heart.
Sophie and Gabriel are put in each other's space for the tour and it will be a true test of wills and wants. Emotionally and physically, I couldn't wait to watch this journey unfold.
Readers looking for a fun read and a look inside a band's tour, with lovable characters that you will want to know more about should pick up this book – I can't wait to read more from this cast of characters!!!