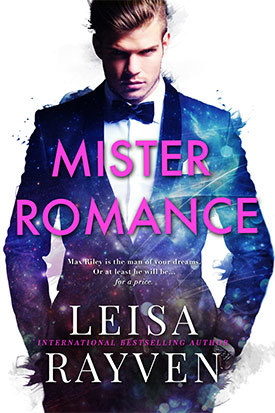 Mister Romance

by Leisa Rayven
on April 30, 2017
Pages: 451
Buy on Amazon, Buy on B&N, Buy on iTunes, Buy on Kobo
Goodreads

Max Riley is the man of your dreams. Or at least he will be, for a price.

As his alter-ego Mister Romance, Max is a drop-dead gorgeous escort who makes romantic fantasies come to life. No sex, just swoon-worthy dates to die for, and the cream of New York's socialites can't get enough. Whether they want a dominating billionaire, bad boy with a heart of gold, hot geek, sexy biker, or best friend who loves them from afar, Max can make it all happen, but he's careful to keep his real identity a secret.

Enter investigative journalist Eden Tate. Having caught wind of the urban legend of Mister Romance from a lovestruck client, Eden is determined to publish a scathing expose on Max and his ability to swindle lonely society women out of their fortunes.

Desperate to protect his anonymity and his clients, Max challenges Eden to give him three dates. If she doesn't fall in love with him, she can run her story with his blessing. If she succumbs to his charms, the story dies.

Cynical Eden has no doubt she can resist his fake romance personas, but when the real Max admits he's falling for her, she has to decide if the professional liar is telling the truth, or if the passionate man with the mysterious past is just one more character designed to con her out of her career-making story.
You know when you read a blurb for a book and then start said book and have a preconceived notion of what the male lead will be like and as you continue reading you realize HOW WRONG you were… well that happened to me while I was reading Mister Romance.
I loved Ms. Rayven's Starcrossed series and I have to say that Mister Wrong blew me away and then some. This is my fave book of hers to date!!! A definite Top FAVE of 2017!
Everything you really need to know is in the blurb.
Eden is cynical about everything in her life most especially about love. She doesn't believe in love, marriage or happily ever after. She wants the one night stands, the hot sex, the no commitment—basically nothing serious.
Max seems to be the typical Mister Romance… only he's not. He is so much more than this—learning who he is, getting to know him as the story progressed made me love him more and more and MORE. And this pretty near perfect man had his way with words… I was melting and gushing and just sighing over everything that came out of his mouth… I am telling you that he is the epitome of a book boyfriend even with his flaws. I FELL IN LOVE WITH HIM HARD!!!!
This was more than about the sex—it was about the journey to finding love, the meaning of that love, the meaning of "more." And while I appreciated all of those things, I did want some of the sex. Don't get me wrong, everything about this book is complete perfection but I felt somewhat teased… I wanted the action lol… Which if you know me, this is so unlike me to say!
I love Ms. Rayven's words—the way she is able to grab the reader from page one and transport us into her story so that we become so immersed that we don't want to leave. That when life happens (aka the kids come home from school, after school activities, laundry, etc) we can't help but let our minds drift back to said story because we can't stop thinking about it.
Mister Romance is the perfect book for readers who love humor, emotion, and romance. It is completely captivating, meaningful, and memorable in Every.Single.Way. This is a must read and a #TopFave of 2017! The words, the feels, the story, and the characters were exquisite and something I will remember for a long time to come. Mister Romance is everything!! Well done Leisa… well done!!! <3
LOVE RULES!